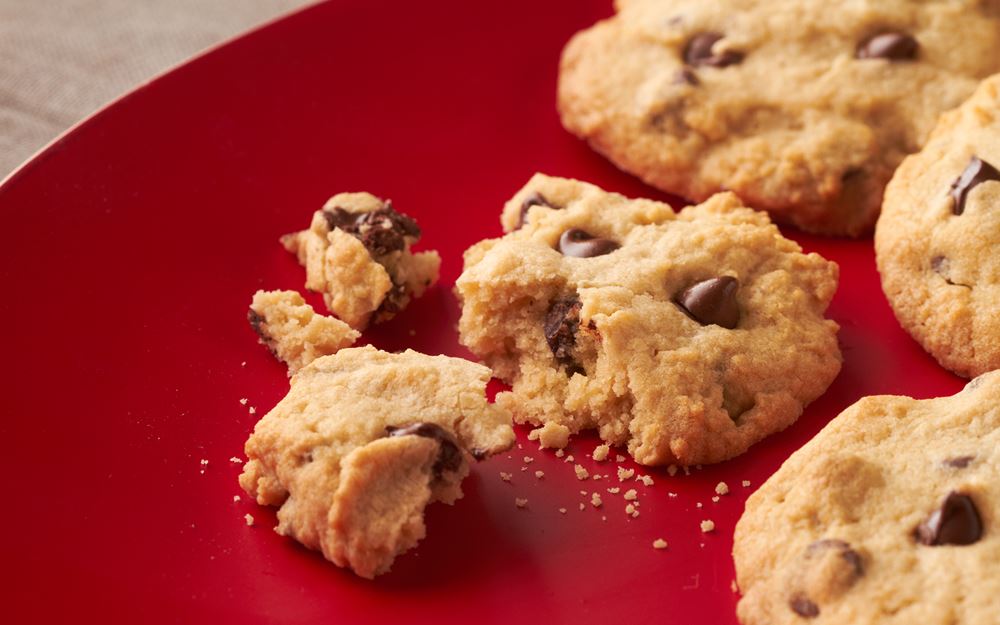 Before You Start
The use of parchment paper in this recipe makes it easy to remove the cookies after baking by simply sliding the entire sheet of parchment (with the cookies) off the pan and onto a cooling rack. Parchment paper that comes on a roll will work; however, take the time to seek out precut "half sheet pan" sheets of parchment paper from a local restaurant supply store. The flat precut sheets are much easier to use than the rolls.
Preparation Method
In the bowl of a stand mixer cream the butter with the sugars on medium speed for 2 minutes or until smooth. Add eggs, one at a time, scraping bowl after each egg is added. Add the coffee and vanilla. Continue to mix on medium high speed until mixture is light and fl uffy – about a minute. Sift together flour, baking soda, baking powder and salt. Slowly add mixture to the bowl and mix just until combined. Stir in chocolate chips on low speed for 10 seconds. Line the solid pan with parchment paper. Place 12 portions of dough, about 3.5 cm balls, onto the pan, evenly spaced. Place the pan into the convection steam oven on rack position 2. Turn the oven on by selecting the Convection Mode set to 170°C. Bake the fi rst pan 14 to 15 minutes or until done. Remove the pan from oven. Slide the sheet of parchment paper with the cookies off the solid pan and onto a cooling rack and allow to completely cool. Place a new sheet of parchment paper onto the solid oven pan and
place another 12 portions of dough evenly spaced onto the pan. Return the solid pan to the oven. Successive pans will require slightly less time, approximately 12 to 13 minutes.