Everywhere you look, there's a sea of neutral kitchen design. But neutral, you're not. You're vibrant, outgoing, and you want the design and performance of your kitchen to measure up. So express yourself with the almost infinitely customizable products of Sub-Zero and Wolf. High-gloss brights, luxe metallics, touch me textures – whatever you can imagine, we can help you achieve.
A COBALT BLUE REFRIGERATOR?
High style, or highly-advanced food preservation? Have both. Not only is Sub-Zero Integrated refrigeration designed to be panel-ready, it's also engineered with the same refined fit-and-finish as the rest of your custom cabinetry, to literally disappear into your décor.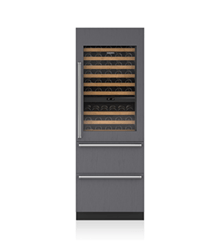 BOLD THAT NEVER GETS OLD
Sub-Zero wine storage makes sure the flavors and aromas of your wines are perfectly preserved, with superior features that protect against heat, humidity, light and vibration. And it's part of our panel-ready Integrated line of products, so keeping your Burgundy close at hand won't detract from the bold beauty of your kitchen.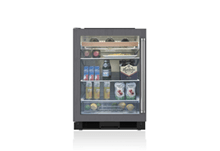 COLD DRINKS FOR THE WHOLE CROWD
By adding Sub-Zero undercounter refrigeration, you ensure that you'll always have cold beverages on hand, no matter how big the party. And it's panel-ready, for easy coordination with surrounding base cabinets.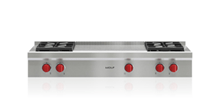 BRING OUT YOUR INNER CHEF
The Wolf sealed burner gas rangetop has such precision, such high-end power and low-end finesse, that you'll savour delicious results from even your most daring recipes. Choose a model with a French top – often called "the command center" of professional kitchens - and you'll be able to cook with confidence and flair the kind of multi-pot dishes you've enjoyed in the best restaurants.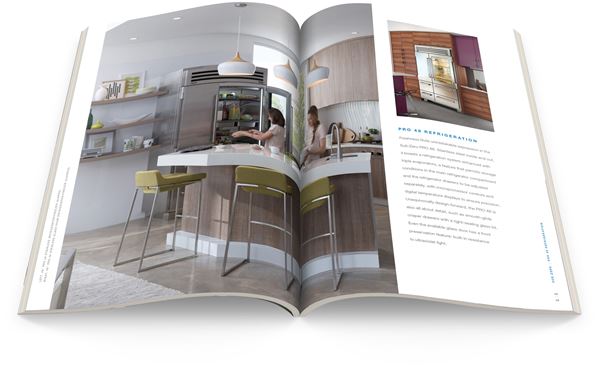 Request a brochure
Dozens of pages of inspiring photos, product features and more in print and online. Discover a world of beautiful, high-performance and top-quality products for your dream kitchen with this free guide from Sub-Zero and Wolf.
Receive a printed brochure