Legacy Model - 91 CM Designer Column Refrigerator with Internal Dispenser - Panel Ready
ICBIC-36RID
THE EXTRA REFRIGERATION YOU'VE WISHED FOR
How often have you wished for a larger refrigerator? Weekly? Daily? We invite you to think modular and solve your food storage problems once and for all. The Sub-Zero Designer 91 cm All-Refrigerator Column with internal dispenser delivers spacious, well-organized refrigerator storage. You'll have flavourful food on hand no matter how large your family or how often you entertain.
Rest assured it will stay fresher longer, thanks to the ICBIC-36RID's advanced food preservation features. NASA-inspired air purification scrubs the air of ethylene gas, bacteria, mould and viruses. A magnetic door seal system locks in cold, while a state-of-the-art micro-processor precisely controls temperatures. An internal dispenser delivers fresh, filtered water. And it can be fitted with stainless steel panels or custom cabinetry panels to virtually disappear into your décor. less
Product Features
All-refrigerator storage

Perfect if you need greater capacity for your refrigerated foods, or extra design flexibility in your kitchen, the all-refrigerator unit pairs easily with all-freezer units. Advanced food storage technology includes an air purification system and high-humidity, lower temperature crisper drawers to keep produce fresh.

Soft-close doors and drawers

This feature, commonly found on high-end cabinetry, gives Sub-Zero Designer Refrigeration line-up a rich, sturdy feel and noiseless operation.

Air purification system fights spoilage, odors

Many fresh foods emit ethylene gas, a natural compound that hastens spoilage. Sub-Zero refrigerators come with an air purification system (based on technology developed by NASA) that scrubs the air of ethylene and odor every 20 minutes.
Nano-coated spill-proof shelving

A microthin coating applied to the perimeter of each shelf prevents spills from spreading, making clean-up a breeze and eliminating the need for plastic edging. The result is a clear, clean interior that maximizes visibility of food.

Internal water dispenser works with seamless design

Found inside select designer refrigerators, it provides up to 1.5 L. of chilled, filtered water at a time without disturbing the seamless design of your kitchen. An advanced water filtration system significantly reduces contaminants while preserving water's fresh, clean taste.

Water-filtration system

Designed to reduce contaminants and chlorine taste and odors when filtering water for ice, this low-maintenance system uses a filter built to last 1 year or 2850 litres. Replacement is fast and easy.
Specifications and Downloads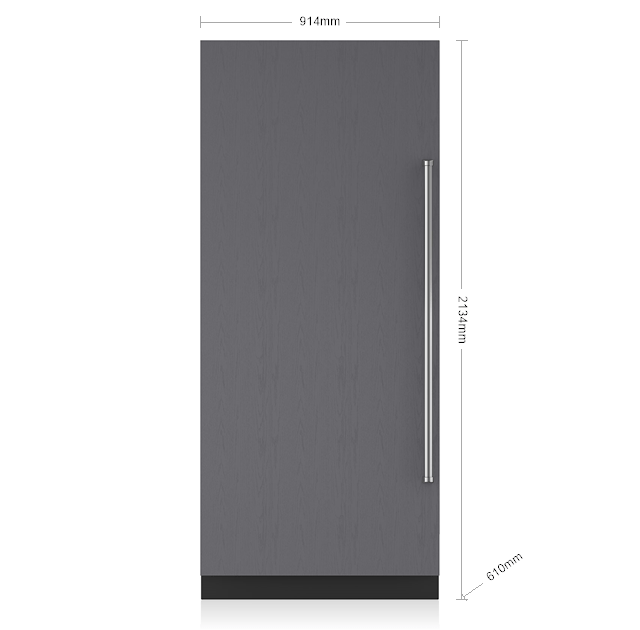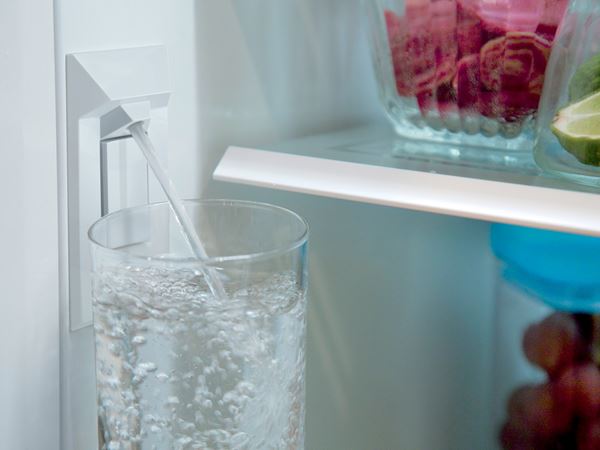 THE DISPENSER THAT DEFENDS YOUR DESIGN
In the 1950's, Sub-Zero pioneered built-in refrigeration. And in the 1990's, we took that concept a step further with integrated refrigeration – appliances that virtually disappear in your cabinetry, with neither a hinge nor a grille visible.
Big concepts. But we think of the little things too. Like offering several of our designer models with a discreet internal water dispenser, which doesn't interfere with the seamless look of your cabinetry.
Of course, it's about more than aesthetics: our internal dispenser also provides fresh, filtered water free of suspended particles, contaminants and chlorine taste and odors.
Fresh ideas. It's what we're all about.
Request a brochure
Dozens of pages of inspiring photos, product features and more in print and online. Discover a world of beautiful, high-performance and top-quality products for your dream kitchen with this free guide from Sub-Zero and Wolf.
Get my brochure now