Legacy Model - 76 CM Designer Over-and-Under Refrigerator/Freezer with Ice Maker and Internal Dispenser - Panel Ready
ICBIT-30CIID
"WHERE'S THE REFRIGERATOR?"
Sub-Zero pioneered the concept of refrigeration units that virtually disappear into any kind of kitchen decor, with not a hinge or grille visible. But open the door, and you'll find just what you'd expect: the most advanced food preservation features available, keeping your food fresher longer. Crisper greens, juicier peppers, blueberries that burst with flavour – even long after you've brought them home from the market.
Dual refrigeration ® provides the ideal humid yet chilly conditions for fresh foods, along with dry, frigid air for frozen foods, while a NASA-inspired air purification system scrubs the air of the ethylene gas that hastens food spoilage. An internal dispenser delivers fresh, filtered water. And, the unit is ready to be fitted with stainless steel panels or custom panels and handles for seamless installation with surrounding cabinetry. Only you, your family and the blueberries will know it's there. less
Product Features
Over-and-under refrigerator/freezer storage

Classic over-and-under units feature easy-access refrigerator storage above a full-extension, roll-out freezer drawer containing two-tier wire baskets.

Dual refrigeration keeps food fresher

This technology pioneered by Sub-Zero features two separate cooling systems. Fresh food stays fresher in the cool, moist air of the refrigerator, while frigid, dry air prevents frost and freezer burn in the freezer – optimum preservation conditions for each type of food.

Low-temperature/high-humidity storage zones

Crispers and deli drawers are strategically located near the evaporator to maintain temperatures a few degrees cooler than the rest of the unit. Drawers are sealed to lock in humidity and ensure freshness.

Internal water dispenser works with seamless design

Found inside select designer refrigerators, it provides up to 1.5 L. of chilled, filtered water at a time without disturbing the seamless design of your kitchen. An advanced water filtration system significantly reduces contaminants while preserving water's fresh, clean taste.
Nano-coated spill-proof shelving

A microthin coating applied to the perimeter of each shelf prevents spills from spreading, making clean-up a breeze and eliminating the need for plastic edging. The result is a clear, clean interior that maximizes visibility of food.

Air purification system fights spoilage, odors

Many fresh foods emit ethylene gas, a natural compound that hastens spoilage. Sub-Zero refrigerators come with an air purification system (based on technology developed by NASA) that scrubs the air of ethylene and odor every 20 minutes.

Automatic ice maker with "max ice" feature

Provides crescent-shaped ice cubes and includes a "max ice" feature capable of increasing ice production by an average of 30 percent for a 24-hour period – just the boost you need for parties and holidays.

Water-filtration system

Designed to reduce contaminants and chlorine taste and odors when filtering water for ice, this low-maintenance system uses a filter built to last 1 year or 2840 Litres. Replacement is fast and easy.
Specifications and Downloads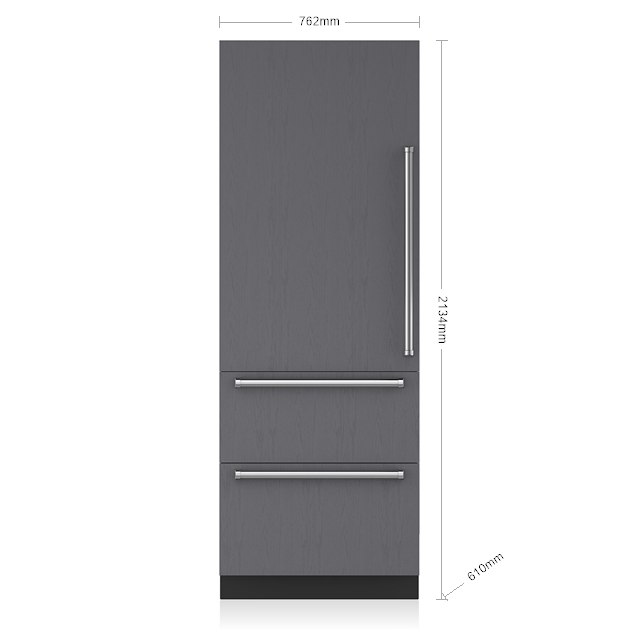 Request a brochure
Dozens of pages of inspiring photos, product features and more in print and online. Discover a world of beautiful, high-performance and top-quality products for your dream kitchen with this free guide from Sub-Zero and Wolf.
Get my brochure now