76 CM Designer Column Refrigerator with Internal Dispenser - Panel Ready
ICBDEC3050RID
REFRIGERATION AT ITS MOST CAPACIOUS
How often have you wished for a larger refrigerator? Weekly? Daily? We invite you to think modular and solve your food storage problems once and for all. The Sub-Zero Designer 76 cm All Refrigerator Column delivers an impressive, well-organized refrigerator gross capacity. Pair it with an all-freezer unit, and you'll have flavorful food on hand no matter how large your family or how often you entertain.
Rest assured it will stay fresher longer, thanks to the ICBIC-30RID's advanced food preservation features. NASA-inspired air purification scrubs the air of ethylene gas that hastens food spoilage and also reduces odors. A magnetic door seal system locks in cold, while a state-of-the-art micro-processor precisely controls temperatures. Crisper and deli drawers are ideal for produce and meat. An internal dispenser delivers fresh, filtered water. As with all our designer models, it can be fitted with stainless steel panels or custom cabinetry panels to virtually disappear into your décor. less
Product Features
ClearSight™ LED Lighting

ClearSight™ LED lighting system fully illuminates the interior and reduces shadows

Easily Customize Settings

Easily customize settings—from lighting to humidity—with the tap of a finger via the conveniently accessible touch control panel

Industry-Leading Warranty

Sub-Zero offers an industry-leading full two-year warranty on appliances, along with a full five-year sealed system warranty

Split Climate™ Intelligent Cooling System

Split Climate™ intelligent cooling system revolutionizes Sub-Zero's already-superior preservation capabilities, keeping food even fresher for longer

Flip-Up Dairy Compartment

Lift the base of the flip-up dairy compartments to store taller items on the shelf below
Sleek Stainless Accents

Sleek stainless accents trim the interior, matching the sophistication of the exterior

Adjustable Door Shelves

Position adjustable door shelves at various heights to accommodate assorted items

Accepts Custom Panels

Accepts custom panels for an integrated look within cabinetry or stainless-steel accessory panels and handles to match other Sub-Zero and Wolf products

Night Mode

Night Mode optimizes the interior lighting based on the detected ambient light, reducing the brightness by 90% in dim environments

Delivers Fresh-Tasting, Filtered Water

Delivers fresh-tasting, filtered water through an internal dispenser located discreetly within the refrigerator
Specifications and Downloads
Roll over image to zoom. Click image for expanded view.
Interior images are intended for interior reference only.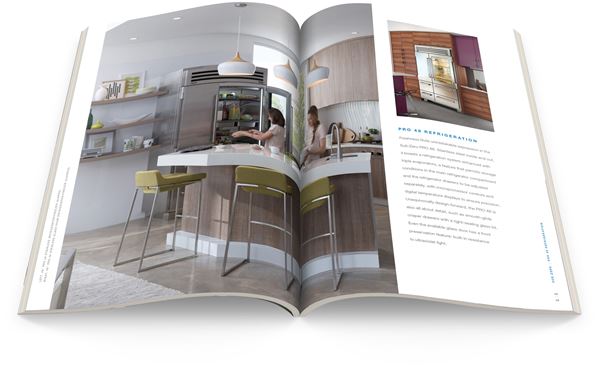 Request a brochure
Dozens of pages of inspiring photos, product features and more in print and online. Discover a world of beautiful, high-performance and top-quality products for your dream kitchen with this free guide from Sub-Zero and Wolf.
Get my brochure now