76 cm Transitional Framed Induction Cooktop
ICBCI304TF/S
Magic? No, magnets.
Beneath the sleek surface of the Wolf 76 cm Induction Cooktop dwells a cooking technology of startling precision and power. It's called magnetic induction. The cooktop doesn't heat up, the cookware does, fast and with perfectly distributed heat. Turn an element up or down, and the temperature response is instantaneous – up to 40% faster than gas or electric. Wolf induction produces very high highs and very low lows, for faster sears and boils or gentle simmers and melts. (A low-end finesse that other induction cooktops may not give you.)
The ICBCI304TF/S is highly efficient, exceptionally safe and easy to clean, because the cooktop stays relatively cool. With flexible cooking configurations, its four elements accommodate a wide variety of pan sizes and dish preparation. Black ceramic glass surface resists scratching, staining, impact and heat. Illuminated white LED sliding touch controls are crisp and easy to read. And a brushed stainless steel frame makes it a sleek focal point in any type of kitchen. less
Product Features
Rigorously tested to ensure dependability

Each and every Wolf appliance is rigorously stress-tested to perform for over twenty years of daily use and is backed by the strongest warranty in the industry.

Flexible cooking surface

Four elements and a bridging option accommodate a wide variety of pan sizes and dish preparation.

Cooktop stays cool

With magnetic induction, the cooktop stays relatively cool, while the cookware heats up, fast and with perfectly distributed heat. Safer to operate, and easier to clean.

Efficiently Transfers Heat

Almost no heat is wasted or lost into the air during cooking because energy is supplied directly to the cooking vessel.
Exceptional customer support

Whether you're shopping for appliances or have questions about those you already own, the Sub-Zero and Wolf Customer Care team has a reputation for service that's as exceptional as its products.

Incredible Control

Heat your cookware up to 40% faster than gas or electric. Delivers lightning fast high heat or very low lows, with a melt setting for gentle heat and a true simmer setting to prevent scorching.

Cookware sensing

No worries about leaving a hot burner on, because elements can't be energized without an induction-compatible pan on the surface.
Specifications and Downloads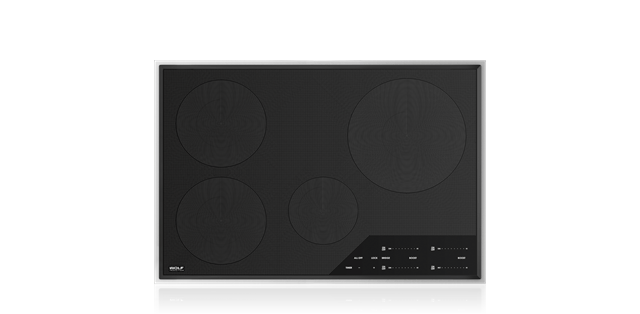 Request a brochure
Dozens of pages of inspiring photos, product features and more in print and online. Discover a world of beautiful, high-performance and top-quality products for your dream kitchen with this free guide from Sub-Zero and Wolf.
Get my brochure now