Rangetops

All the power and control of a Wolf range, just without the oven! Controlled by signature red knobs (or a choice of black or stainless), Wolf rangetops feature our patented, dual-stacked burners — with up to 16 MJ of power, but still with the low-end finesse you need for delicate simmers and melts. Customize your rangetop to your cooking style when you include a teppanyaki or chargrill. In 91 cm or 122 cm widths, our rangetops fit into any kitchen design.
Dual-stacked burners let you sear and simmer like a pro
High power is easy. It's the low end where most gas burners let you down. But the dual-stacked burners found on Wolf rangetops deliver at both the high and low end, as Chef Coleman demonstrates in "Absolute Control from Simmer to Sear." Sauce warms low-and-slow, rice simmers without burning, fresh vegetables sauté crisply and colorfully, and salmon sears on high – all at the same time. You'll feel absolute control – ready to take on any culinary challenge.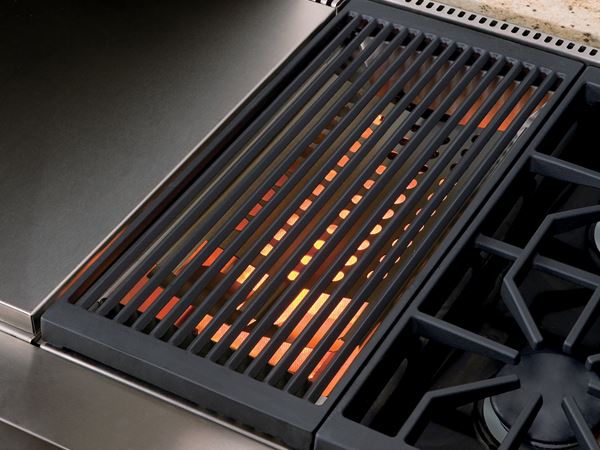 Rangetop configurations
Wolf rangetops come in two sizes and three configurations to suit your personal cooking style. In 91cm or 122 cm allows choices of more burners, teppanyaki and chargrill powered by infrared technology (the secret to superior heat distribution).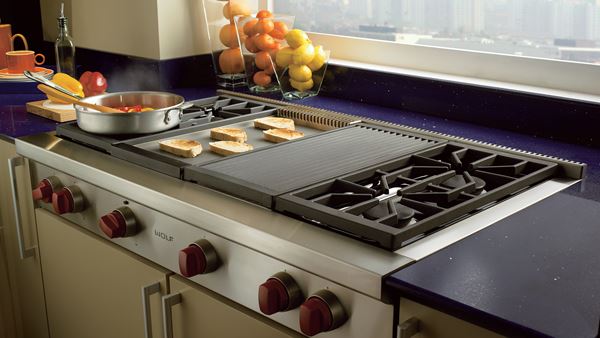 A breeze to clean
The "sealed" part of our dual-stacked, sealed burner design refers to the burners' setting within a sealed drip pan. Flip vegetables, stir sauces and toss in the seasoning with confidence that any spills and sloshes stay right there for fast, easy cleanups.
SEE ALL OPTIONS IN PERSON
Even "test drive" appliances at an official Sub-Zero and Wolf showroom!
Request an Appointment
Request a brochure
Dozens of pages of inspiring photos, product features and more in print and online. Discover a world of beautiful, high-performance and top-quality products for your dream kitchen with this free guide from Sub-Zero and Wolf.
Get my brochure now