122 cm Sealed Burner Rangetop - 6 Burners and Infrared Teppanyaki
ICBSRT486G
Power plus finesse improves results
Look closely at the gas burners on a Wolf dual fuel range, rangetop or cooktop. They're called dual-stacked, sealed burners. See the two tiers of flame ports on each burner, one above the other? One delivers higher heat; the other comes on for lower heat settings. Turn it way up for high-MJ searing heat. Twist the knob the other way and you can instantly have the merest breath of flame for simmering without boiling and melting without scorching.
And the continuum of control you have in between– it's like nothing you've ever cooked with before.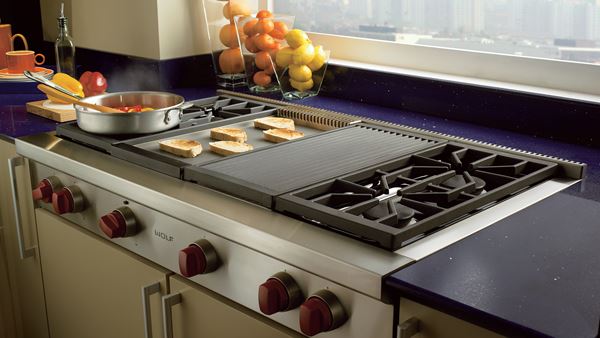 A breeze to clean
The "sealed" part of our dual-stacked, sealed burner design refers to the burners' setting within a sealed drip pan. Flip vegetables, stir sauces and toss in the seasoning with confidence that any spills and sloshes stay right there for fast, easy cleanups.
BEYOND BREAKFAST WITH THE RANGETOP TEPPANYAKI (GRIDDLE)
Certainly, you can fix eggs and pancakes on the teppanyaki (griddle) of the Wolf Dual Fuel Range. But how about lamb sliders and other dinner delicacies? Chef Coleman shows Wolf owners Holly and Carly how to use the teppanyaki (griddle) like it's the most useful pan ever.
Request a brochure
Dozens of pages of inspiring photos, product features and more in print and online. Discover a world of beautiful, high-performance and top-quality products for your dream kitchen with this free guide from Sub-Zero and Wolf.
Get my brochure now