Legacy Model - 76 CM Designer Wine Storage with Refrigerator Drawers - Panel Ready
ICBIW-30R
WINE AND CHEESE, ANYONE?
We can't imagine a tastier combination. A nutty gruyere with pinot noir, perhaps, or a full-bodied Burgundy with creamy cheese. Consider our ICBIW-30R Wine Storage a celebration of all such delicious pairings. It preserves and protects up to 86 bottles of wine, while down below, in two refrigerator drawers, you have ample room for cheeses, limes and other appropriate edibles, as well as beer, mineral water and all the other beverages you and your guests like to drink.
Of course the main thing is, the ICBIW-30R takes very good care of your valuable wine. It has two individually controlled wine storage zones, so you can store and serve both reds and whites at the proper temperature. Racks glide smoothly in and out, providing access without agitating wine. UV-resistant, bronze-tinted glass prevents light exposure. And dual evaporators maintain constant, moderate humidity. So raise a glass to better wine preservation –and don't forget the brie. less
Product Features
Rigorously tested to ensure dependability

Built with premium-grade materials, Sub-Zero products are designed to last a minimum of 20 years. Major components are subjected to extreme stress tests prior to going into the final design, and every major function is tested before shipping.

Design Flexibility

Choose the classic stainless steel look or match your custom cabinetry – custom front panel and hardware allow for infinite design options.

Independent storage zones control temperature

Two independent storage zones maintain wine's temperature within 1⁰ of set point, holding wines at precisely the storage and serving temperature you prefer.

Discreet interior lighting

Soft-on LED lighting illuminates gradually, making it easy to find the bottle you want. Just switch it on, and your wine becomes a decorative element in the room.

Intuitive Touch Control

Touch control panel allows you to keep temperatures within one degree of set point.

Star-K compliant

Just install the harness kit for Sabbath and holiday mode.

Roller-glide shelves minimize vibration

Shelves cradle bottles safely, glide smoothly in and out to provide access without agitating wine. Improved door hinge system makes for softer opening and closing, also minimizing agitation.
Exceptional customer support

Whether you're shopping for appliances or have questions about those you already own, the Sub-Zero and Wolf Customer Care team has a reputation for service that's as exceptional as its products.

Dual evaporators control humidity

Constant, moderate humidity means no dry corks or wet, peeling labels – and no oxidation robbing wine of its proper flavor.

UV-resistant glass prevents light exposure

UV-resistant, dark-tinted glass and a dark interior wall shield wine from the harmful rays that can cause premature aging and even unpleasant odors.

Accommodates different size bottles

Safely stores 750 ml bottles, half bottles and magnums.

Home security system connection

Protect your significant wine investment by linking in with your home security system.

Prized bottles?

The illuminated display shelf is the perfect place to store them, for you and your guests to appreciate.

INVENTORY TILES SYSTEM

Cabernet, chardonnay, pinot noir – these clever metal inventory tiles ID each bottle of wine, so you can easily find exactly what you're looking for. Eight varieties printed on each included tile. Blank tiles that allow you to create your own specific titles available as an accessory.
Specifications and Downloads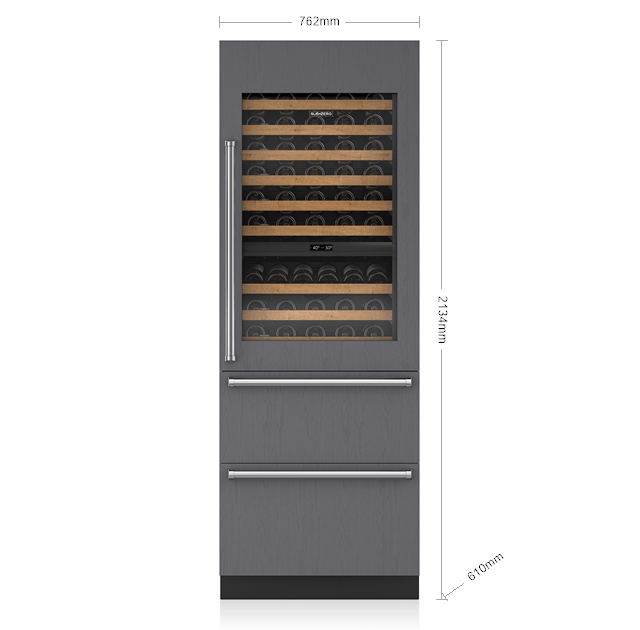 Request a brochure
Dozens of pages of inspiring photos, product features and more in print and online. Discover a world of beautiful, high-performance and top-quality products for your dream kitchen with this free guide from Sub-Zero and Wolf.
Get my brochure now