Chocolate Pot De Crème
A rich and creamy chocolate custard is a memorable ending to any meal.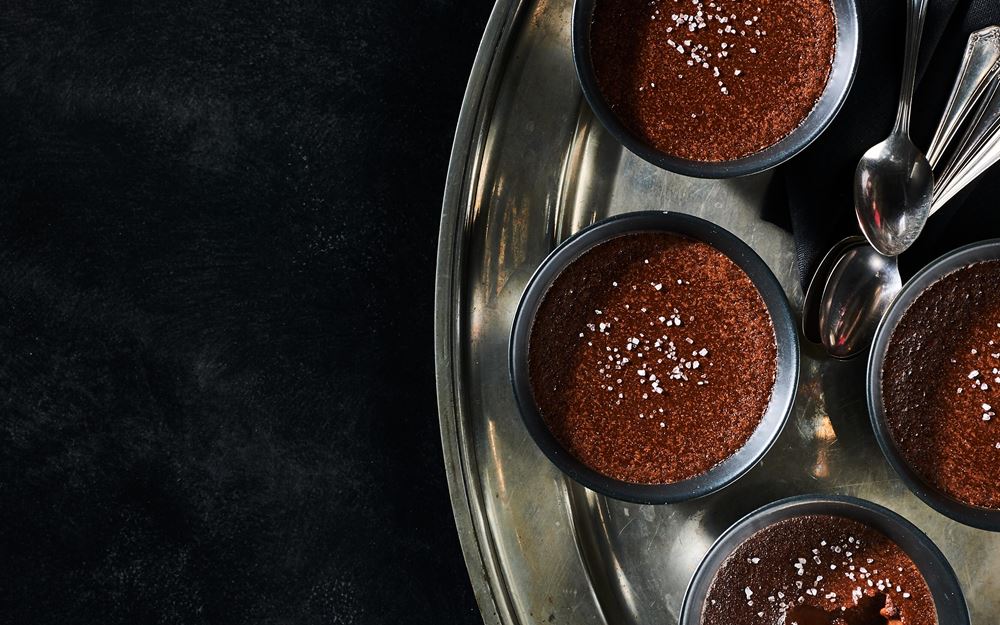 Before You Start
A hot water bath, or bain-marie, is necessary for custards—it prevents cracking and drying out and helps regulate temperature during baking.
Preparation Method
1. Preheat the oven to 65°C on Bake Mode with a rack set on position 3.
2. Break the chocolate up into small pieces.
3. In a small saucepan over medium heat bring the cream and milk to a simmer.
4. Remove the pan from the heat, add the chocolate pieces and let stand for 5 minutes.
5. In a large bowl whisk together yolks, vanilla, sugar, and kosher salt.
6. With a whisk, gently stir the chocolate mixture until smooth.
7. Gradually add the chocolate mixture to egg yolk mixture whisking as you do so.
8. Scrape the pan as needed to get all of the chocolate mixture out.
9. Strain the final mixture through a fine sieve.
10. Place four 8 ounce custard cups or ramekins in a shallow roasting pan or 228x330 mm baking dish.
11. Divide the chocolate custard evenly among them.
12. Pour hot water into the pan so it reaches halfway up the sides of cups and carefully place in the oven.
13. Bake until the custards are almost set in the center — about 30–35 minutes.
14. Remove the baking dish from the oven and allow the cups to sit 10–15 minutes in the water bath.
15. Remove from the water bath and refrigerate until chilled. Serve with whipped cream and fresh berries.
Products Used in this Recipe