Focaccia Bread
This focaccia is a simple, delicious bread that can be used in a wide variety of ways. Wonderful on its own and equally good sliced used for sandwiches or even paninis, this bread will find its way into almost any meal you prepare.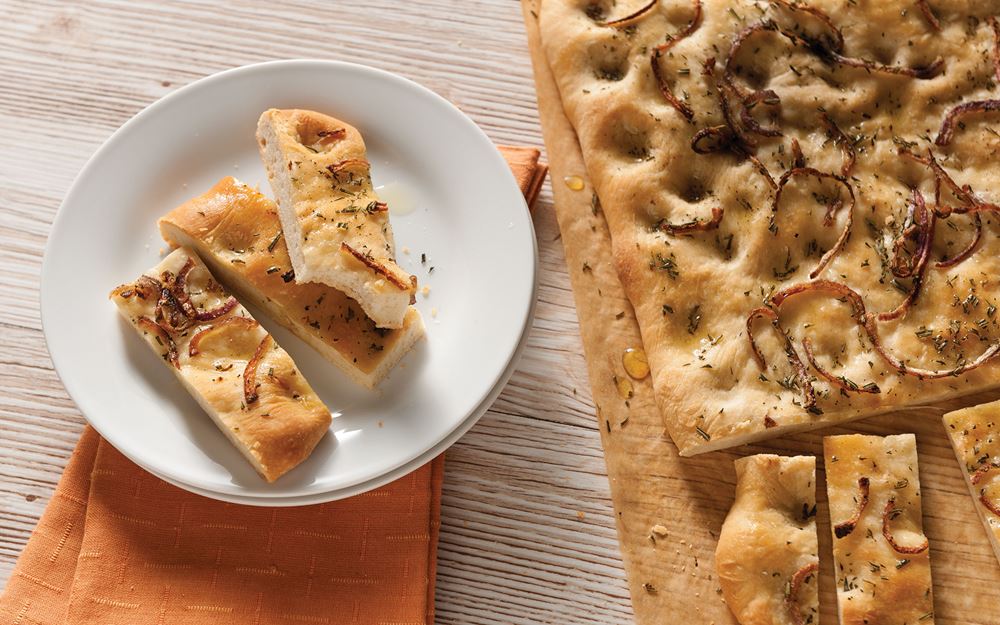 Before You Start
A variety of different pans or pots can be used to bake this bread in. A 6–8 qt. oven safe stainless dutch oven (about 1012 mm in diameter) works wonderfully and will produce a thicker loaf. This focaccia could also be left "free form" on a larger pan and left in a more rustic shape.
Preparation Method
1. Preheat the oven to 30°C on Proof Mode with a rack set on position 3.
2. Combine the water and yeast in a small mixing bowl and set aside for 10 minutes until the yeast starts to bubble and foam.
3. Pour the yeast mixture and olive oil into the bowl of a stand mixer.
4. Add the flour and salt.
5. Mix on speed 1 for 15 minutes, then on medium speed for an additional 2 minutes to develop a smooth, elastic dough. If the dough looks dry and firm while mixing on 1st speed, add a little more water.
6. Place dough in an oiled bowl, cover with a damp towel and proof in the oven for 1 hour, or until the dough doubles in volume.
7. While the dough is proofing, sweat the onion in the 1 tablespoon of olive oil until tender in a small skillet over medium heat.
8. Cool and set aside to be used later.
9. Once the dough has proofed, gently punch it down once or twice and remove from the bowl.
10. Oil the bottom and sides of a jelly roll pan with two tablespoons of the olive oil.
11. Place the dough in the pan and press it out into an even layer to the edges of the pan.
12. Cover with a damp towel again and proof for another 30 minutes.
13. Remove from the oven and preheat the oven to 205°C on Bake Mode with a rack set on position 3.
14. Brush the top of the dough carefully with the remaining 30 ml of olive oil, sprinkle the dough with rosemary, kosher salt, pepper, and the cooked onions.
15. Dimple the dough with your finger tips.
16. Place on center rack in the oven and bake for 35–45 minutes until golden brown and internal temperature of 98°C. Cool before slicing and serving.