Pistachio Carrot Cake
This three-layer carrot cake has a rich, appetizing appearance, and with the addition of pistachios, it's a delicious departure from the norm.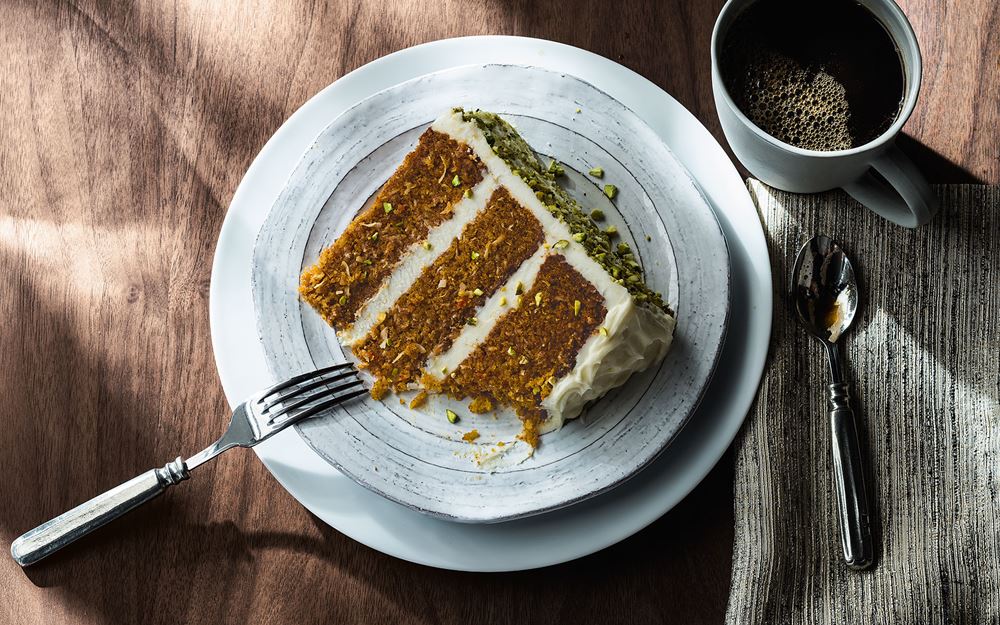 Before You Start
Roasting nuts helps to bring out their flavor, as the oils in the nut become more pronounced. Grinding or chopping them very fine gives a better texture to your cake. Also, shredded carrots can be purchased for this recipe but make sure to chop them smaller for a finer texture in your cake.
Preparation Method
FOR THE CAKE
1. Preheat the oven to 165°C on Convection Mode with racks set on positions 2 and 4.
2. Spray three 93 mm round cake pans with pan spray and line the bottoms with a circle of parchment paper slightly smaller than the inside of the pan. The pans could also be buttered and lightly floured.
3. In a medium bowl, sift together the
flour, baking powder, and cinnamon.
4. In the bowl of a stand mixer cream together the butter, sugar, kosher salt and vanilla on medium speed for two minutes.
5. Add the eggs one at a time, mixing well and scraping bowl between each addition.
6. Add in the flour mixture and mix just until combined.
7. Fold in the carrots and pistachios.
8. Divide the batter evenly between the prepared cake pans.
9. Bake for 30 minutes or until the center is set and springs back and a toothpick comes out clean.
10. Cool cakes completely.
11. If needed, use a serrated knife to level off the tops of the cakes so they are easier to stack and ice.
FOR THE ICING
1. Cream together the cream cheese and butter on medium speed until smooth — about 2 minutes.
2. Add in the powdered sugar and vanilla and mix together until smooth.
3. Place the first cake layer on the platter it will be served on, and spread a layer of icing 12 mm thick on top of it.
4. Place the next cake layer on top of the icing and spread with another layer of icing 12 mm thick.
5. Place the top layer on and refrigerate for 15–20 minutes to help firm up the icing.
6. Remove from the refrigerator and ice the top and side of the cake with remaining icing.
7. Press the pistachios onto the side of the cake.
8. Refrigerate the cake until the icing has firmed up.
9. Serve or cover it with plastic wrap.