THE RANGE THAT TOOK THE COOKING WORLD BY STORM
Discover a new world of cooking with the Wolf 91 cm dual fuel range the best of two worlds, actually. Topside: Wolf gas cooking in all its glory, with the power and control of dual-stacked burners that now produce up to 16 MJ at the high end down to a mere breath of flame for gentle simmers and melts. Below: that marvel of cooking technology, the Wolf dual convection electric oven. Its two fans and four heating elements work in concert, directed by electronic controls, to create 10 cooking modes.
Simply select the mode that's right for your dish, and anticipate delicious results. In the Convection mode, multiple racks of rolls or pastries achieve identical brownness with no rotation of baking sheets necessary. Or try Convection Roast, and produce juicy, gorgeously browned poultry and meats with surprising speed. There are even modes for proofing dough and making flavorful dried fruits. No more guesswork - with the Wolf ICBDF364G dual fuel range, you'll cook with an almost blissful confidence and control, and master any culinary challenge. less
Product Features
Rigorously tested to ensure dependability

Each and every Wolf appliance is rigorously stress-tested to perform for over twenty years of daily use and is backed by the strongest warranty in the industry.

Cast-iron burner grates with easy-slide finish

Continuous cast-iron grates with a matte black, porcelain finish let you slide pots easily on and off heat, or from one burner to another.

Our powerful and precise burners

Wolf's patented dual-stacked burner design means each spot on your rangetop is really two burners in one. The upper tier of the burner produces up to 16 MJ for faster boils, and the power to maintain performance even when you're searing several steaks at once. Meanwhile, the lower tier allows you to dial down to just a breath of flame, delivering less than 0.5 MJ for gentle simmering and melting. And with a sealed, seamless burner pan, drips and spills stay on the surface for easy clean-up.

Dual convection for faster, more consistent cooking

Dual fans – each with its own heating element – work in concert with two additional heating elements to control heat and airflow, eliminating "cold spots" and ensuring more consistent, more delicious results – even when using multiple racks at once.

Stainless steel construction

Heavy-gauge stainless steel with a classic brushed finish stands up for decades, and matches other Sub-Zero and Wolf products, allowing for seamless integration into your kitchen design.

Your choice of control knobs

Choose Wolf signature red, black or stainless steel. All provide infinite control for more precise cooking.

Convenient features

Wonderfully easy to use, with self clean, delayed start, timed cook and Sabbath mode settings.

4 burners plus infrared teppanyaki

Burners enough for almost any meal, plus a 15 MJ teppanyaki for everything from perfect pancakes to sizzling fajitas.
Exceptional customer support

Whether you're shopping for appliances or have questions about those you already own, the Sub-Zero and Wolf Customer Care team has a reputation for service that's as exceptional as its products.

Cobalt blue porcelain interior

Wolf's signature aesthetics enhance the oven's interior, creating a bold cooking backdrop.

Premiere simmer performance

High Btu output is easy, but Wolf's patented dual-stacked, two-in-one burner design gives you premier performance for simmering, too. When any burner is turned to the simmer setting, a continuous flame delivers less than 300 Btu to your pan or pot for the ultimate low-end control.

Spark ignition system for each burner

Each burner has a sensor that detects if the flame has gone out while you're cooking and automatically re-ignites it for improved temperature control and added safety.

Exclusive pivoting control panel

Set temperature or cooking mode with touchscreen ease, then rotate the control panel discreetly out of sight when not in use.

Is it done yet?

No need to open the oven to check, and double check, the level of doneness. The temperature probe alerts you when your dish has reached the desired temperature. The ultimate convenience for busy gourmets.

10 cooking modes for predictably delicious results

Precisely control heat and airflow, providing just the right cooking environment for everything from Cornish hens to cherry pie to butternut squash. Ten modes are Bake, Roast, Broil, Convection, Convection Bake, Convection Roast, Convection Broil, Bake Stone, Proof and Dehydrate.
Specifications and Downloads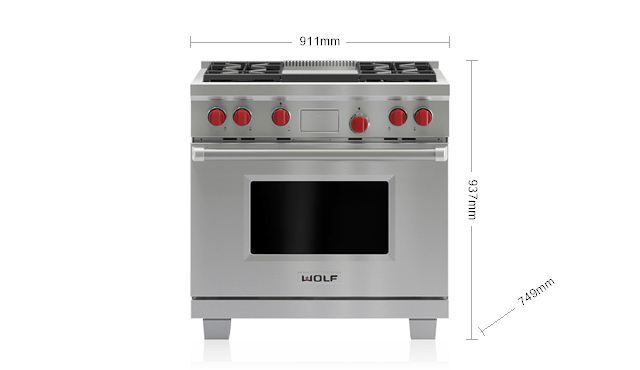 BEYOND BREAKFAST WITH THE RANGETOP TEPPANYAKI (GRIDDLE)
Certainly, you can fix eggs and pancakes on the teppanyaki (griddle) of the Wolf Dual Fuel Range. But how about lamb sliders and other dinner delicacies? Chef Coleman shows Wolf owners Holly and Carly how to use the teppanyaki (griddle) like it's the most useful pan ever.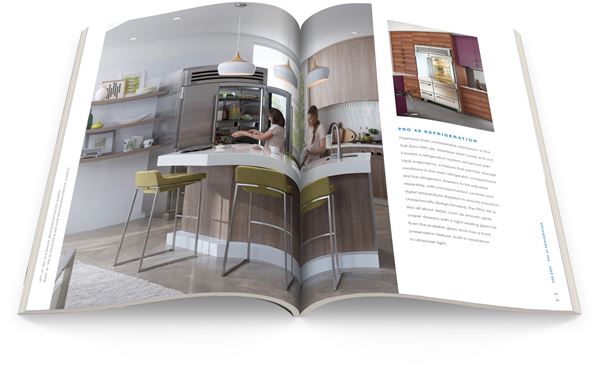 Request a brochure
Dozens of pages of inspiring photos, product features and more in print and online. Discover a world of beautiful, high-performance and top-quality products for your dream kitchen with this free guide from Sub-Zero and Wolf.
Get my brochure now