76 cm Indoor/Outdoor Warming Drawer
ICBWWD30O
NOW YOUR INDOOR AND OUTDOOR KITCHEN IS COMPLETE
Work. Soccer. Yoga. Some nights, it seems like every member of the family is on a different schedule. Nice to know they can all enjoy dinner as it was intended, deliciously fresh and warm, with the Wolf Warming Drawer. At 76 cm wide, it's spacious enough to hold an entrée and several sides. With superior air control, you can count on the roast chicken staying juicy and the apple crisp staying, well, crisp.
Everything tastes better al fresco. But grilling out does have its challenges. How to keep the first batch of steaks or burgers warm for your guests, when it's time for the second batch to go on? Very simple: the Wolf Indoor/Outdoor Warming Drawer. It allows you to serve everything at just the right temperature, no matter how late guests or family members arrive. If you've got a pool, it can even keep towels nice and toasty till you come out of the water.
It's not all about food – the Wolf Warming Drawer also does a fine job warming dinnerware, cups, even towels. It has a temperature range of 27°C to 93° C, and four preset temps, including one for proofing bread. Electronic controls are hidden so the drawer presents a clean stainless front or subtly integrates into surrounding cabinetry. This may be an appliance you never thought about owning, but once you and your family start enjoying those late, hot meals, you'll never want to be without it. less
Product Features
Integrates with your décor

Stainless steel and black glass drawer fronts match Wolf ovens and ranges, or add a custom wood panel.

Four preset temperatures

Makes it easy to warm favorite foods like bread, cooked cereals or pizza on consistent settings.

Fan assist for even heat distribution

Superior air control and even heating keeps the roast chicken juicy and the apple crisp, well, crisp and delicious.

Smooth, full-extension operation

Three ball-bearing drawer glides make for smooth, easy operation, and full extension allows easier placement of food and dinnerware.
Hidden electronic controls

For a sleeker appearance, electornic controls are hidden, but easy to see, easy to use when you pull out the drawer.

Automatic shut-off

Program the automatic shut-off from 1 minute to 24 hours for safer operation.

Removable rack

Fits in the warming drawer front to back and lets you double stack items – for instance, serving dishes on the bottom and food on top.

Removable stainless steel drawer pan

Allows for easy cleaning between uses.
Specifications and Downloads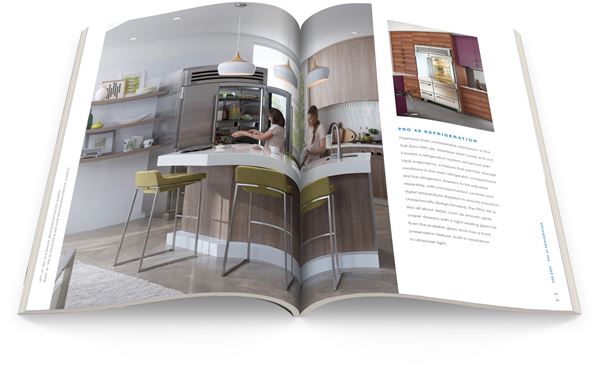 Request a brochure
Dozens of pages of inspiring photos, product features and more in print and online. Discover a world of beautiful, high-performance and top-quality products for your dream kitchen with this free guide from Sub-Zero and Wolf.
Get my brochure now