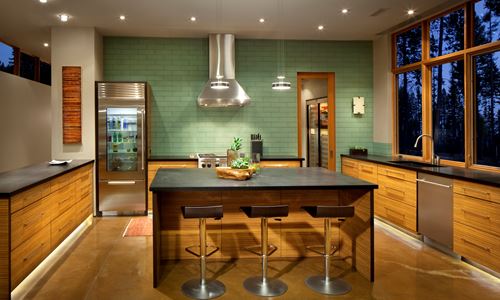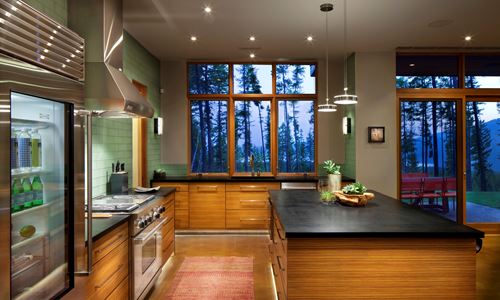 Design Professionals
Hunter Dominick
About Hunter Dominick
Established in Whitefish, Montana in 2001, Hunter & Company specializes in resort and residential design. Our interiors are inspired by the beauty and textures found in the surrounding natural environment. We offer services ranging from project management, space planning, budgeting, fixed finishes, and furniture – capturing any style from rustic elegance to contemporary living. Our retail showroom offers unique gifts, bedding, furniture and lighting to help create spaces that are distinctly yours.
Q&A with Hunter Dominick
Where do you find design inspiration?
The Northwestern landscape of Montana is my main design inspiration. With Glacier Park out our back door, Whitefish and Big Mountain as our community, I can draw inspiration from the simply magnificent outdoors to influence the interiors. Natural elements and textures are easily incorporated into design concepts and interiors.
How do you approach the design process?
We start with associating ourselves with a team incorporating all of the qualities necessary to bring a specific project to life. We then would start the process of space planning. Making sure a project has functionality while being aesthetically pleasing is always our main objective. Research for advanced, functional, and sustainable products is an ongoing concentration in the approach of the design process as well.
What makes your aesthetic stand out amongst other designers?
It would be safe to say that my design firm is based in a certain niche market. We live in a ski and summer resort town. I feel it is my responsibility to expand clients' parameters and give them design choices that are right for them. I believe Hunter and Company truly stands out for our combination of ideas and styles we have to offer our clients that create custom designs that are truly their own. Our individual aesthetic of 'Casual Elegance' is created by blending contemporary styles in mediums such as artwork and fixtures and juxtaposing them with the classic mountain home elements.
What is the greatest value you provide to your clients?
The greatest value I have to offer is Creative Intuition. We are fortunate enough to live in a particular market where people come to us to create their main family homes or their dream vacation homes.