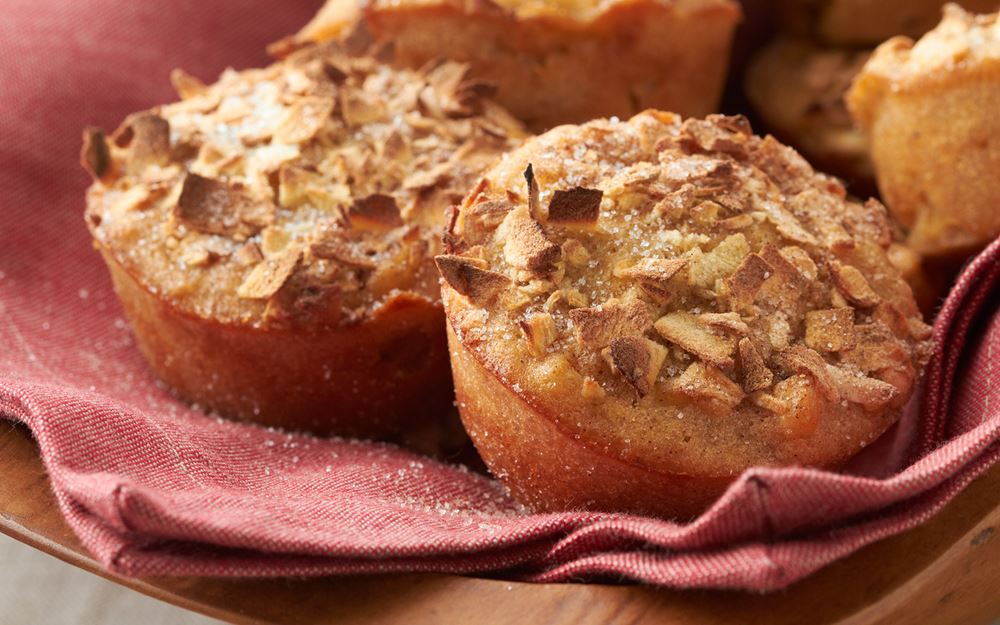 Preparation Method
At Least One Day Ahead of Time:
To dehydrate apples, position oven rack to rack position 3. Dissolve ascorbic acid in the water and set aside. Peel apple. Using either a very sharp knife or a mandolin slicer, thinly slice the apple. Place apple in the acid/water mixture for 15 minutes. Remove apple slices from the water, pat dry with paper towels and place them on a Wolf dehydration rack. Place prepared rack in oven. Place door stop on door latch. Touch or turn oven to Dehydrate* at 135°F. Dehydrate for 1 to 3 hours. The apples should be slightly flexible. Remove from oven and allow to cool. Dice apples into 1/8-inch pieces, resembling confetti. Place apples in air tight container.

Day of Baking:
To make sprinkle topping, combine sugar, cinnamon and nutmeg in a small bowl. Mix, cover and set aside.

To Make Muffins:
Position the oven rack to position 3 for 1 pan** in Wolf electric oven. Preheat oven in CONVECTION at 375°F. Line each muffin cup with a paper muffin liner*** and set aside. Place lemon juice in a small bowl. Peel apple and dice into pieces no larger than 1/4-inch to equal 1 cup chopped apples. Place in lemon juice and toss to coat. Set aside.

Sift cake flour, cinnamon, nutmeg and salt into a bowl. In a large mixing bowl, whisk together eggs and brown sugar. Gradually whisk in butter. Add applesauce. Combine baking powder and vinegar in a small dish or ramekin. (The mixture will foam.) Add baking powder mixture to the large mixing bowl and gently whisk. Add dry ingredients to the large mixing bowl and fold the mixture together with apples. Divide the mixture evenly into muffin cups, filling each about 2/3 full. Sprinkle tops with dried apple confetti. Sprinkle sugar topping over apples.

Bake 13 to 16 minutes, or until toothpick inserted comes out clean. Allow muffins to cool in the pan for 15 minutes before removing.

* Follow the Wolf oven's use and care guide to prepare the oven for dehydration.
** If tripling the recipe, place racks at positions 1, 3 and 5 for multiple pans. Timing is the same as with one pan.
*** Muffin cups can be sprayed with a nonstick spray instead of using muffin liners.