Buttermilk Biscuits
Making homemade buttermilk biscuits is a rite of passage in the South, but folks all over enjoy their hearty deliciousness. These biscuits can be baked either close together for a softer crumb on the sides, or farther apart for more of a crust over the top and sides of the biscuits. The combination of butter and shortening will help give flavor while keeping the biscuits tender and flaky.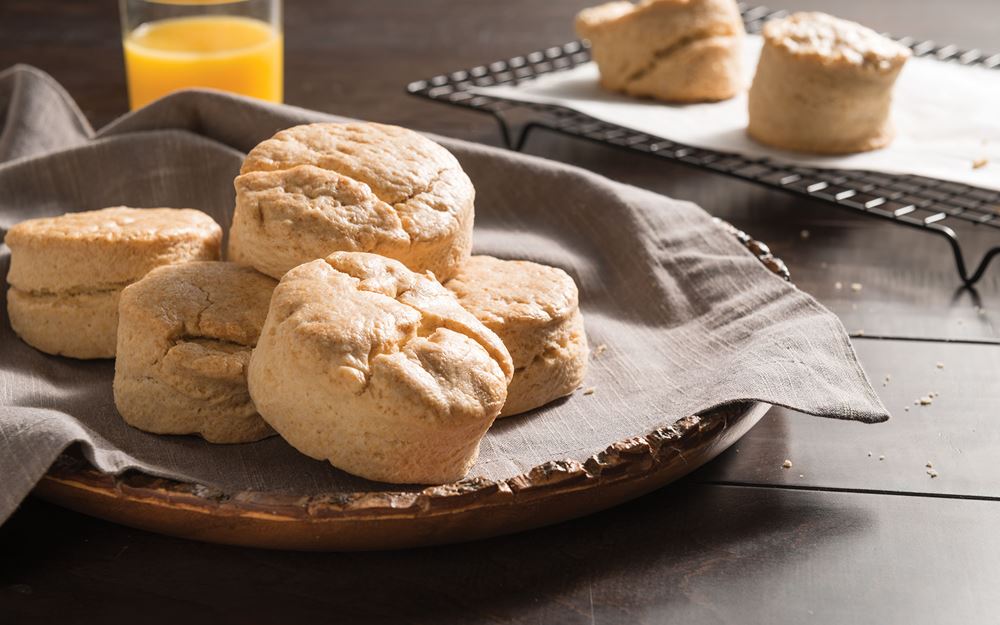 Before You Start
This recipe makes use of a 76 mm diameter biscuit cutter. However, cutting the biscuits out with a soup can (lid and bottom removed, washed and dried) or even a knife is possible if you do not own a cutter.
Preparation Method
1. Preheat the oven to 190°C on Bake Mode with a rack set on position 3.
2. Sift together dry ingredients.
3. Cut the butter into eight pieces and add with the shortening to the dry ingredients.
4. Rub the butter and shortening into the flour between your hands until it looks like coarse cornmeal.
5. Add in the buttermilk and gently mix together with a spatula or your hands until it forms a dough.
6. Turn it out onto a lightly flour-dusted counter and fold it a couple of times to smooth out the dough.
7. Press down into a circle, 18 mm thick. Cut out biscuits with a 76 mm cutter — gently press together the extra dough and cut out as many as you can. Try not to overwork the dough or the biscuits will become tough when baked.
8. Place on parchment-lined baking pan and brush the tops with buttermilk.
9. Bake until golden brown, about 24 minutes.