Dark Chocolate Orange Scones
Baking the perfect scone can seem intimidating (especially if you ve tasted the real thing" in the United Kingdom — mmm!) but it doesn't have to be. This recipe provides a great scone base to which a variety of substitutions and different ingredients can be made.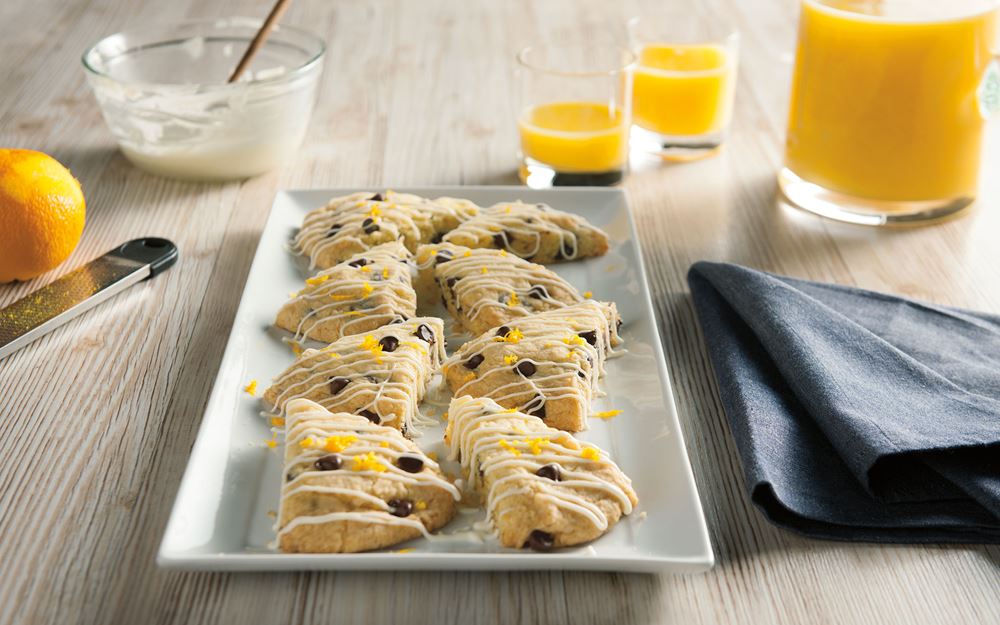 Before You Start
Be sure the butter is cold, and make sure not to overwork the dough.
Preparation Method
1. Preheat the oven to 175°C on Convection Mode with a rack set on position 3.
2. Whisk together all the dry ingredients.
3. Mix the butter into the dry ingredients by hand until hazelnut size pieces are formed.
4. Add in the orange zest and chocolate chips, then the heavy cream and mix gently by hand until the dough comes together. This can also be done in a stand mixer or food processor, though caution must be taken not to overwork the dough.
5. Turn out the dough onto a floured surface, and press out into a 178 mm disk, about 25 mm thick.
6. Cut disk into 8 pieces.
7. Place on a parchment lined baking pan and bake for 16–18 minutes until golden brown around the edges.
FOR THE ORANGE GLAZE
1. Whisk together the orange juice, butter, and powdered sugar.
2. After the scones have cooled completely, drizzle with the icing.