Gougères
Gougères (pronounced goo/zhehrs) can be enjoyed as is or cut open and filled. In France, gougères are often served cold when tasting wine or served warm as appetizers. This recipe can also be used as a base to make cream puffs and éclairs as well. Simply omit the cheese and herbs, bake, cool, and fill with sweet whipped cream or vanilla custard.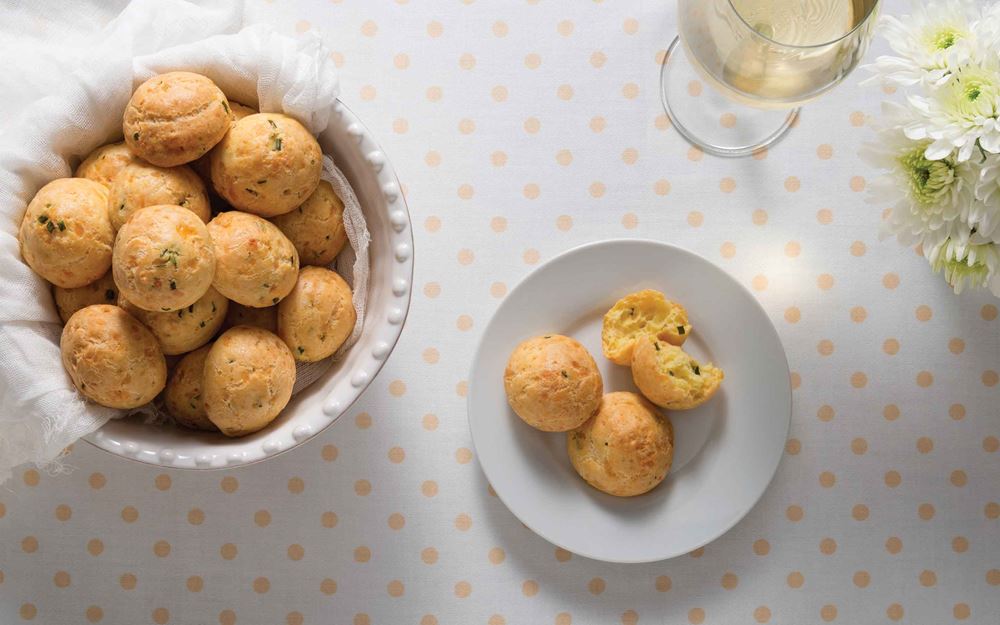 Before You Start
To achieve consistent size, use a portion scoop or a pastry bag. If using the piping method, use a pencil to trace circles on the back side of your parchment paper to be your guide.
Preparation Method
1. Preheat the oven to 190°C on Convection Mode with racks set on positions 2 and 4.
2. In a large sauce pan over medium high heat, bring the water and butter to a boil.
3. Stir in the flour with a wooden spoon and mix until the mixture forms a dough.
4. Continually stir and cook over medium low heat for 2–3 minutes.
5. Remove from heat and continue to stir the mixture until it cools down and no more steam is coming off. The ideal temperature is 60°C if using a thermometer.
6. By hand or in the bowl of a stand mixer, add in the eggs one at a time, beating well. Wait between each addition to make sure the egg is completely mixed in. The dough should be very smooth and glossy.
7. Mix in the cheese and herbs, then transfer the mixture to a large pastry bag fitted with a large round tip.
8. Pipe out onto a baking tray lined with parchment paper. Each gougere should be about 50 mm. You can also use a cookie scoop to scoop the dough out.
9. Wet the tip of your finger and smooth out the tops of each gougere if needed so there are no points.
10. Bake for approximately 22–24 minutes or until golden brown with a crisp outside.
11. Cool completely before cutting or serving.
Products Used in this Recipe