Hearty Oat Bread
This is our favorite everyday bread, whether you need sandwiches for school lunches or a loaf to accompany your beef stew or white chicken chili. Be patient: you'll have to let it proof four times to achieve the very best flavor and texture.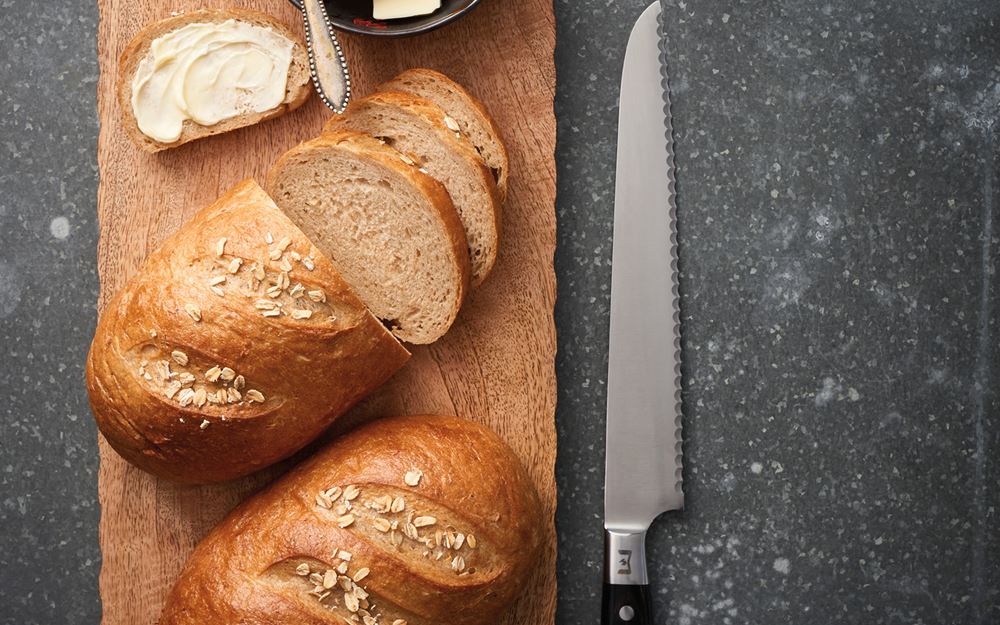 Preparation Method
Whisk together water, oats, milk, oil, and honey in the bowl of a stand mixer and let sit until oats soften, about 10 minutes.
In a medium bowl, whisk together flours, salt, and yeast. Add flour mixture to the soaking oats.
Using the dough hook, knead dough for 5–7 minutes on medium-low speed. Transfer dough to greased bowl, cover, and let proof for 45 minutes.
After 45 minutes, gently stretch and fold dough in half, then in half again. Transfer dough back to greased bowl, cover, and let proof for an additional 45 minutes.
After proofing a second time, repeat the folding process. Transfer folded dough back into the greased bowl, cover, and let proof for 1 hour.
Transfer dough to a lightly floured surface. Gently cut the dough in half and shape each half into an oval. Transfer loaves onto parchment-lined, lightly floured solid pan. Cover loosely and let dough proof for 15 minutes.
Lightly score each loaf with a serrated knife. Slide pan into oven at rack position "2." Select Bread and Pastry, and Classic and set temperature to 375°F. Bake for 30 minutes.
Remove pan from oven and transfer loaves to a wire rack to cool completely.