Mixed Berry Pie
You may think of this as a special summertime dessert. But by using frozen berries, you can enjoy it any time of the year. And you can customize it to you or your family's special tastes, mixing raspberries, blueberries, blackberries or even less common varieties like huckleberries and gooseberries.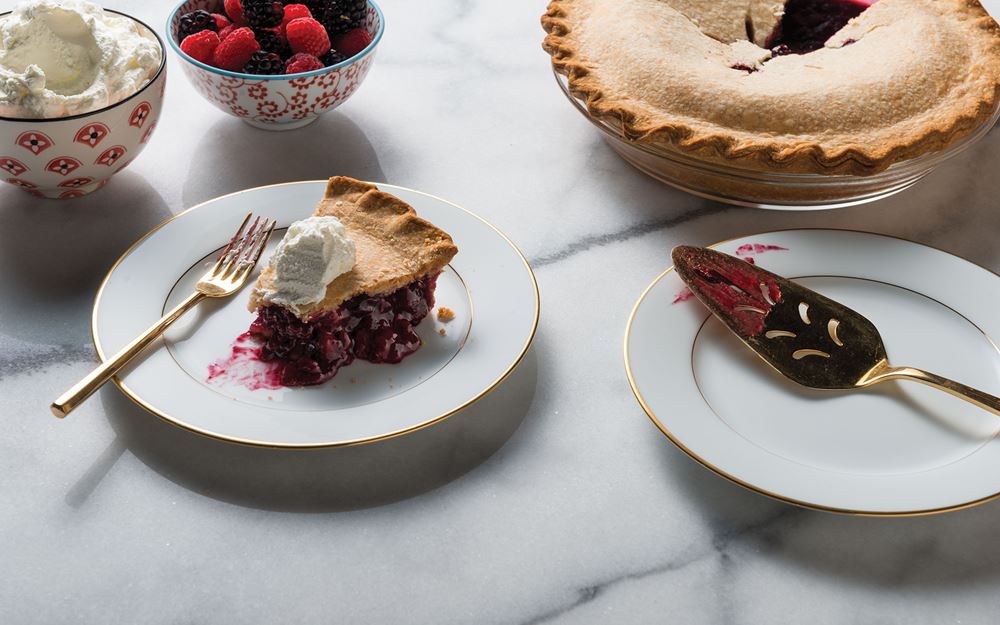 Before You Start
Make sure to chill the pie dough between steps. Chilled dough will keep its shape better once it goes into the oven and starts to bake.
Preparation Method
PIE DOUGH PREPARATION METHOD
1. Combine the flour, kosher salt, and sugar together, cut the butter into the dry mixture to pea size pieces.
2. Add in the ice water and mix until a dough forms. This can be done by hand or in a food processor.
3. Turn out onto a lightly floured surface and knead a few times to smooth the dough.
4. Chill for 1 hour in the refrigerator. While waiting, prepare the pie filling below.
5. After 1 hour, divide the dough in half and roll out top and bottom crust to fit a 230 mm pie shell.
PIE FILLING PREPARATION METHOD
1. Combine the fruit, sugar, and 60 ml of water in a sauce pan and bring to a simmer.
2. Whisk together the 3 tablespoons of water and cornstarch to make a slurry.
3. Once the fruit comes to a simmer, add the cornstarch slurry and cook the mixture until the juice thickens — about 7 minutes.
4. Add in the 105 g of sugar, kosher salt, and lemon juice and simmer another 4 minutes, or until the sugar has dissolved.
5. Cool the mixture completely before filling the pie crust.
PIE ASSEMBLY METHOD
1. Place bottom crust into pan and trim the edges to 6 mm from the pie pan.
2. Fill with the cooled mixed berry filling and add top crust.
3. Trim edges of top crust to 6 mm and pinch the top and bottom crust together, roll under and crimp the crust around the edge of the pie pan.
4. To bake the pie use Gourmet Mode and select "Baked Goods", "Pie", "Double Crust".
5. Follow the instructions provided in the pop-up dialog boxes.
6. Once the oven has preheated to 220°C place the pie in the oven.
7. After 15 minutes the oven will turn down automatically to 175°C. Once it does, set a timer and bake the pie for 50–60 minutes more.
8. Remove the pie from the oven and allow to cool and set completely before serving.