Quiche Lorraine
Equally delicious when reheated, make this quiche ahead of time for a convenient breakfast option. Pair with a salad or fruit for a satisfying dinner option.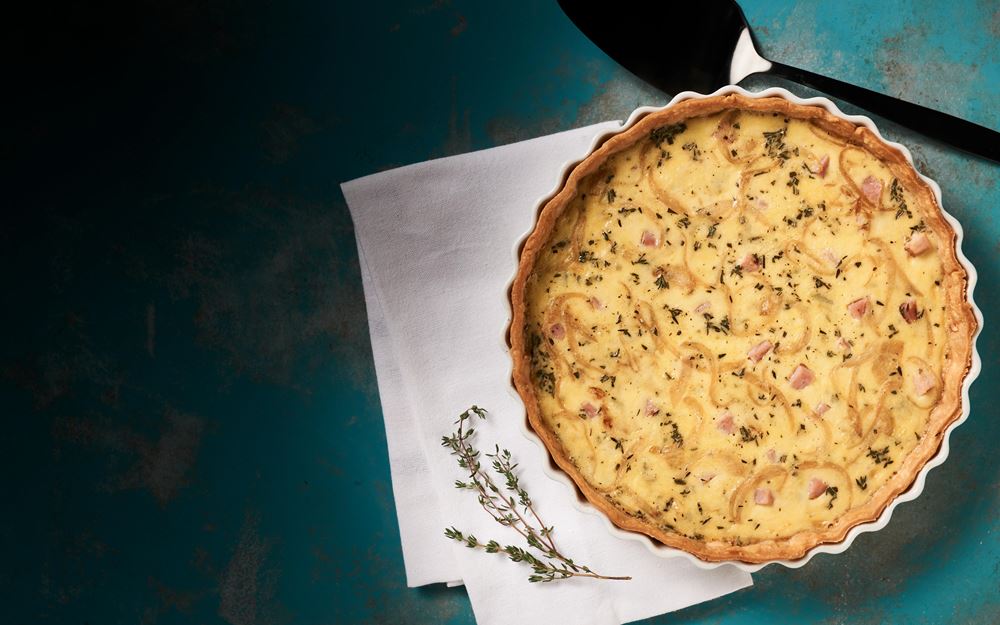 Before You Start
Blind baking (baking a pie crust without the filling) helps to ensure the end product is crisp and flaky. By blind baking you give the crust a chance to set before adding the filling.
The crust can be mixed either by hand or in a food processor.
Cook the onions for the filling ahead of time so they can cool completely. This helps to remove the extra water from the onions that would change the consistency of your filling.
Preparation Method
FOR THE CRUST
1. Combine flour and kosher salt together, cut the butter into the flour by hand or with a food processor until pea size pieces form.
2. Add in the ice water and mix until a dough forms.
3. Turn out onto a lightly floured surface and knead a few times to smooth the dough.
4. Flatten into a disk, wrap with plastic wrap and chill for 1 hour in the refrigerator.
5. After an hour, roll out the dough and place in a 230 mm pie shell.
6. Trim the edges to 6 mm from the pie pan, roll under and press down around the edge of the pie pan.
7. Chill for 30 minutes in the refrigerator.
8. While the dough is chilling, preheat the oven to 205°C on Bake Mode with a rack set on position 3.
9. After 30 minutes, line the unbaked pie crust with parchment and weight it down with something so that the bottom doesn't puff and the sides don't slouch. You can find special pie weights for this job, but you can also just use dry beans (about 450 g).
10. Blind bake the crust for 25 minutes, remove from the oven and allow to cool completely before filling.
FOR THE FILLING
1. Reduce the heat of the oven to 175°C on Bake Mode with rack still set on position 3.
2. In a medium bowl, whisk together the eggs and heavy cream until smooth.
3. Add in the kosher salt, pepper, and herbs and mix to combine.
4. In even layers add the onions, cheese, and ham to the bottom of the precooked pie shell.
5. Carefully pour the custard over the filling. Bake the quiche for 40–45 minutes, or until the quiche is set.
6. Remove from the oven and allow to cool slightly before serving.
Products Used in this Recipe