Salted Caramel Nutella® Brownies
Brownies are always delicious, so how could they possibly be made any better? Well, adding salted caramel, coffee and Nutella® is a good start.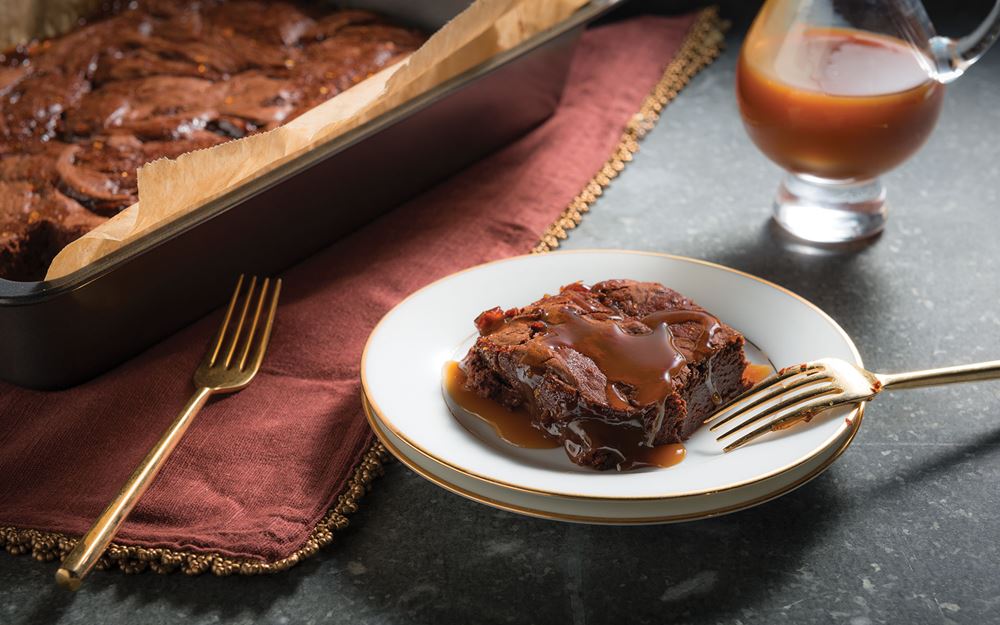 Before You Start
While the cooking time of the brownies is only 30 minutes, the prep time to prepare the caramel is longer and can be done ahead of time. You may substitute store bought salted caramel for this step, but the addition of the coffee in the caramel is a nice flavor addition.
Preparation Method
TO MAKE THE CARAMEL
1. Combine the coffee and brown sugar in a medium sauce pot.
2. Bring to a boil, then reduce to a simmer, cooking for 7 minutes or until the mixture has reduced to ½ cup.
3. Slowly add the heavy cream and butter, whisking to combine.
4. Bring the sauce back to a boil, reduce the heat to a low boil and cook 5 minutes longer or until the sauce has thickened and coats the back of a spoon.
5. If using a candy thermometer do not let the sauce go above 82°C.
6. Remove from the heat and stir in the kosher salt.
7. Make sure the caramel has cooled completely before adding it to the brownie batter.
TO MAKE THE BROWNIES
1. Spray a 228x330 mm baking dish with cooking spray and line with parchment paper, letting the edges overhang so later you can easily lift the brownies out of the pan.
2. Preheat the oven to 165°C on Convection Mode
with a rack on position 3.
3. Combine the butter and chocolate in a medium size sauce pan and melt over low heat, stirring to combine until melted and smooth.
4. To the melted chocolate mixture add the sugar and instant coffee, whisking until completely combined.
5. Remove from heat and cool slightly by mixing for 1–2 minutes.
6. Whisk in the vanilla and eggs until smooth.
7. Stir in the cocoa powder, flour and kosher salt until smooth and just combined — try not to over mix the batter, it will be thick.
8. Pour half the batter into the prepared pan.
9. Dollop teaspoon size amounts of Nutella® over the batter and drizzle with half of the caramel (you may need to warm the caramel over the stove if it has thickened/set).
10. Spoon the remaining batter over top, using a spoon to lightly smooth out the batter. It's ok if the batter does not cover up all the Nutella® and caramel.
11. Bake for 25–30 minutes, until the brownies are set on top.
12. Remove from the oven and allow to cool.
13. Heat the remaining caramel as needed and drizzle over the cooled brownies.