Spanakopita Puffs
This small but flavorful appetizer perfectly captures the zesty spirit of Greek food and celebrations and will surely get the party started for you and your guests.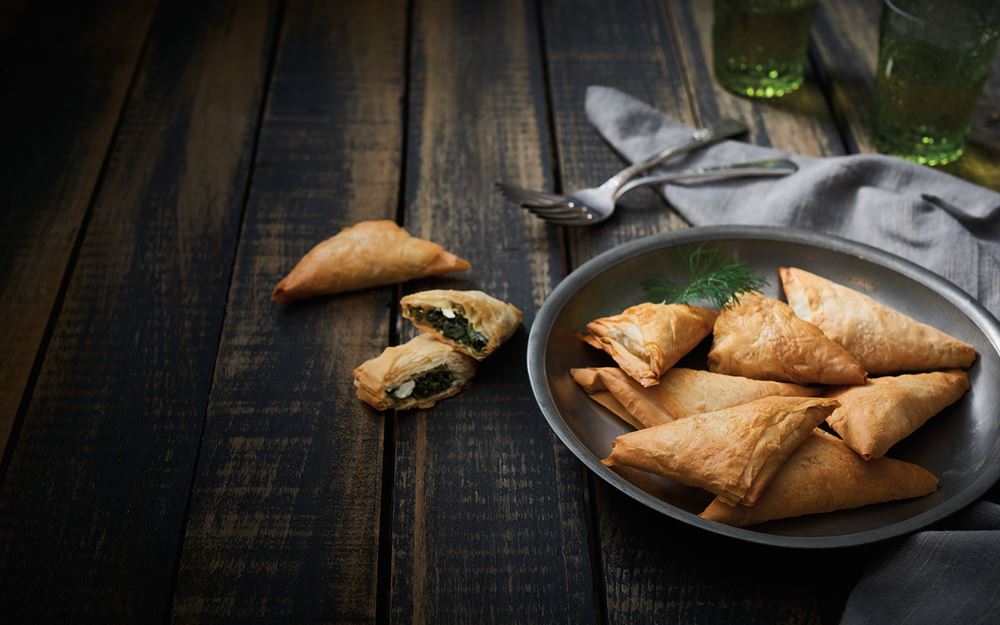 Preparation Method
1. Preheat oven to 350°F Convection Mode with a rack set at position "3." Melt 1 tablespoon of butter with olive oil in a large heavy skillet over medium heat.
2. Add scallions and cook until soft, about 3 minutes.
3. Remove pan from heat and pour scallions into a small work bowl.
4. Add spinach, feta, dill, nutmeg, and pepper, stirring to combine.
5. Melt remaining 4 tablespoons of butter in a small saucepan.
6. Remove the thawed phyllo from the package and unroll, leaving all the sheets still in a single stack.
7. Cut the phyllo stack with a pizza cutter into 3 long strips.
8. Cover the phyllo with a towel to prevent it from drying out.
9. Peel the layers apart and lay 4 strips down on the counter.
10. Brush with melted butter and top with another layer of phyllo. Brush this layer also.
11. Place a small amount of filling in the corner nearest you and fold the phyllo over onto itself, making right triangles along its length (like folding a flag). Repeat with remaining strips of phyllo.
12. Brush the folded triangles with melted butter.
13. Place spanakopita on a baking sheet lined with parchment paper. Bake until golden brown about 15–18 minutes.
Products Used in this Recipe