1st Place Contemporary Award KDC 2013-14
Regional Award Winner KDC 2013-14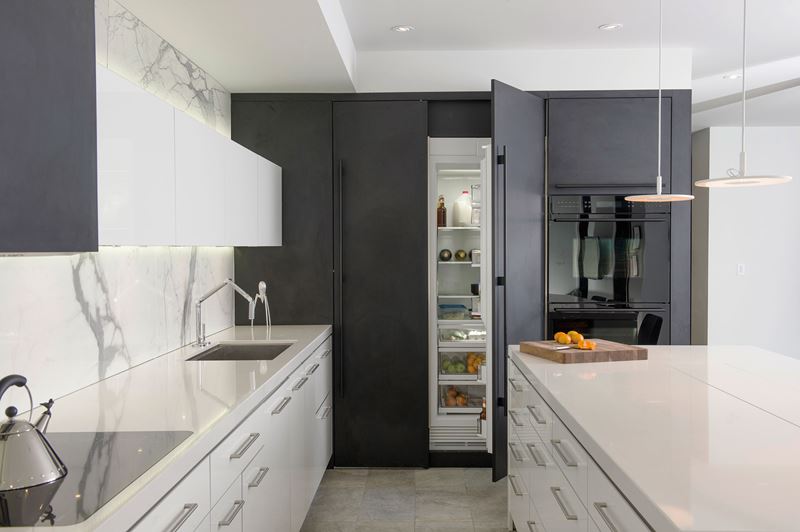 Creating a kitchen that's more than modern - it's magical!
All the winning kitchens in our 2013-2014 Kitchen Design contest are stunning. But "Hide and Seek" Kitchen is something more. It's ingenious. Even magical.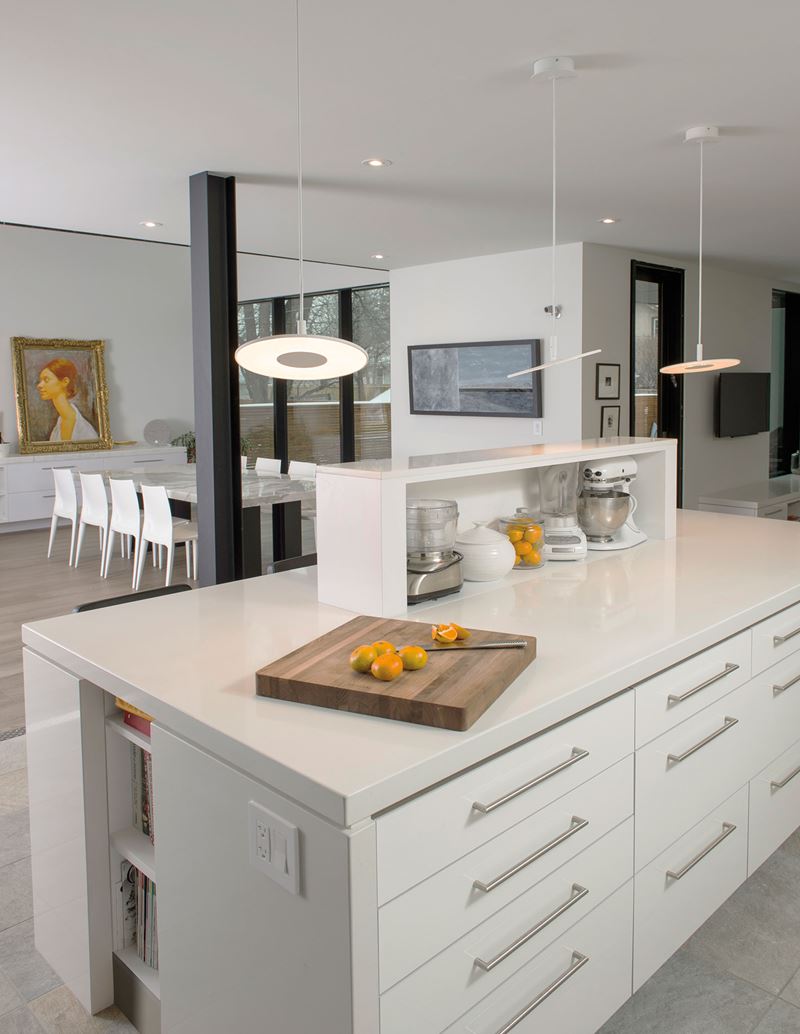 The kitchen is the centerpiece of a residence that functions not only as a living space for architect Dov Secter and his young family, but also his show home and office, in the River Heights neighborhood of Winnipeg, Manitoba. Thus the kitchen has to serve many needs. It has to have a decidedly modern and minimalistic aesthetic, to showcase Dov's sense of design. It needs to provide cooking and entertaining space for a large extended family. And it requires quickly accessible storage so cooking equipment, books, even his children's toys can be stowed quickly when clients come through.
Dov designed many features to minimize clutter while maintaining maximum functionality. For example, a motorized storage unit is built into the center of the island that, at the push of a button, rises to reveal a number of small appliances: blender, mixer, food processor. The stone countertop was water jetted for precision, so the cut where the pop-up is looks completely seamless. (There are other motorized features elsewhere in the kitchen, including a touch-sensitive garbage cabinet you can open with your foot, when your hands are dirty.) And hidden behind what looks like a wall adjacent to the wall ovens and refrigerator is a large pantry, which stores the fresh and dry foods that the family often uses when preparing from-scratch meals. "Hide and seek", then, is no exaggeration.
Innovative custom touches like this are what Dov and his architectural practice, Secter Design, are known for. "Sometimes off the shelf components just don't satisfy the client's needs," says Dov. "Finding a sofa, table, pendant light or handle that is just right for a project can be challenging, so we often design and work with local manufacturers to produce unique pieces that fit perfectly into our spaces."
Secter collaborates on many projects with his father Lloyd, a well-respected architect in Winnipeg for over fifty years. "I fell in love with architecture through osmosis," he says. They work together on many large projects – new homes in Winnipeg or luxury summer homes in nearby "cabin country." Dov brings a fresh perspective to these projects from issues surrounding sustainability to the most current technological advances in home automation. Dov's emerging practice is not afraid to take on projects of any scale, from a kitchen or bath renovation to an addition or new construction.
Architecture is a family affair for Dov – his mother Marcia is also an architect. Wife Sarah manages his office and marketing and is an art consultant with the firm. Clients seem to like that, he says: "They see how closely and compatibly we work together, and It gets them excited and involved with the project."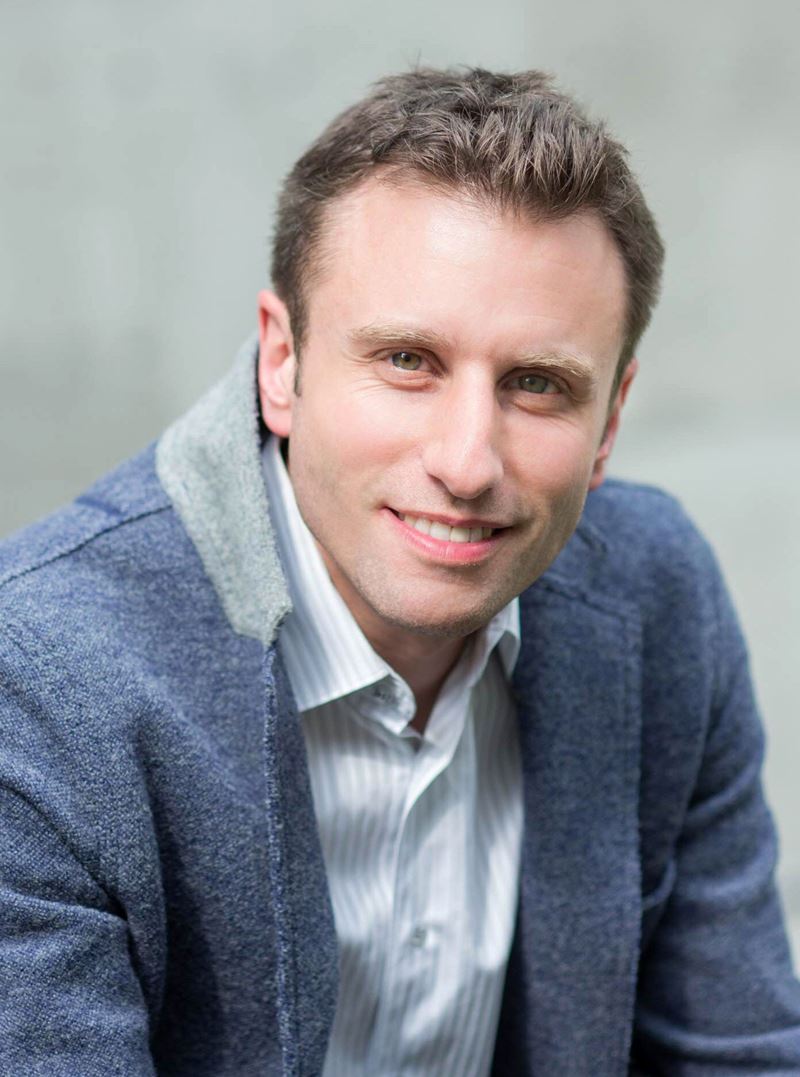 Recently, we sat down with Dov to talk about "Hide and Seek" kitchen, the design community in Winnipeg, and some of the trends he sees in kitchen design.
What were some of the challenges in doing Hide-and-Seek Kitchen?
There were two main challenges. Firstly, creating a space that was highly functional yet looked pristine and without clutter. Secondly, because the house was built on a narrow lot, there were severe limitations that applied to the entire design process. Creating a space that felt expansive became a challenge on a small footprint. By utilizing different masses of the home, we were able to achieve a diversity of space, while maintaining the open-concept feel.
And even have a vegetable garden out back, you said.
Yes, even with our space limitations, we managed to make room for a fairly large vegetable garden in the backyard, with window wells in back of the house that have herb gardens you can walk down into.
How did Sub-Zero and Wolf help you achieve your design goals?
Using Sub-Zero helped conceal the functional components of the kitchen, which was essential to the design. The integrated freezer drawers allowed them to be hidden away as well as providing the freedom to separate the refrigerator and the freezer, where sleek, horizontal lines were desired. The integrated refrigerator blended seamlessly into the matte black box, while the flush mount induction cooktop allowed a seamless prep space for multiple cooks.
You got your degree in architecture in Toronto, then moved back to Winnipeg. Is Winnipeg as dynamic a city in terms of culture and design?
There are incredibly exciting things going on in Winnipeg – wonderful architecture, a great art scene, and lots of walkable neighborhoods. The Canadian Museum for Human Rights is an amazing building – it just opened last year.
You also got your hockey team back.
Yes, the Winnipeg Jets came back in 2011, after moving to Arizona many years ago. I think we have the most electric arena in the whole NHL – you really have to go to a game to appreciate it.
What are some of the trends you see in kitchen design?
The kitchen is gaining greater importance in the home. It used to be a utilitarian space, but now it has become a gathering space where most family time, entertaining and socializing takes place. I see two streams evolving: one automates the kitchen function and the other is back to basics. In many kitchens, we're seeing more and more highly specialized devices (think of the Soda Stream) which must be accommodated as part of the flow of the kitchen. At the other end of the spectrum, the foodies love simplicity, which means fewer gadgets and machines, and only the essentials are needed in the kitchen.
How do you relax? Or maybe the better question, DO you relax?
I am very busy, not only with the practice and my young family, but with volunteer work, where I sit on various boards and committees in the community. However, I do get away, especially in the summertime. We have a small cottage north of here, the only cottage on the lake. With no connectivity! Pure bliss.
Close
Kitchen Design Contest 2010-2012
We congratulate all entrants for their excellent work. Winners shared their insights and challenges as they designed kitchens using Sub-Zero built-in or integrated refrigeration and Wolf equipment as the primary design instructions.

Global Award Winners
U.S. & Canada Regional Winners
International Regional Winners
U.S. & Canada Regional Winners are recognized for the best use of Sub-Zero and Wolf in the kitchen.
Prizes include:
A trip for two, for each regional winner, to the KDC conference and awards gala in Madison, WI.
National PR and online program for regional winners.
Customized publicity and marketing kit for each regional winner.
View U.S. & Canada Regional Winners
International Regional Winners are recognized for the best use of Sub-Zero and Wolf in the kitchen.
Prizes include:
A trip for two, for each regional winner, to the KDC conference and awards gala in Madison, WI.
National PR and online program for regional winners.
Customized publicity and marketing kit for each regional winner.
View International Regional Winners