91 CM Classic Freezer
ICBBI-36F/S
FINALLY, THE FREEZER SPACE YOU CRAVE
You may have a large family, or buy meat in bulk from the local organic farm. You may entertain frequently. Or just have a serious ice cream habit. You're reading this because you need more freezer space. Rest assured, the Sub-Zero 91 cm All Freezer will give it to you. Pair it with the 91 cm All Refrigerator unit and you'll have equally expansive storage for fresh foods too.
True to our pioneering food preservation heritage, the ICBBI-36F gives your frozen and convenience foods exactly the dry, frigid climate they need, so they stay fresher without freezer burn. An advanced water filtration system reduces pollutants, chlorine taste and odours. The ice maker includes a "max ice" feature capable of increasing production by an average of 30 percent for a 24-hour period. And new brighter LED lighting for better interior views so you can find your favorite foods more easily. less
Product Features
Microprocessor control guarantees peak performance

The state-of-the-art microprocessor preserves your food by adjusting to your individual climate and schedule. It continuously monitors each section of your Sub-Zero for pinpoint climate control, so foods are kept at their ideal temperature, varying by only one degree of your set point. Also lets you finesse your lighting and cooling fan, tells you if your door is ajar, and defrosts when it's most convenient for you.

Automatic ice maker with "max ice" feature

Provides crescent-shaped ice cubes and includes a "max ice" feature capable of increasing ice production by an average of 30 percent for a 24-hour period – just the boost you need for parties and holidays.

Water-filtration system

Designed to reduce contaminants and chlorine taste and odors when filtering water for ice, this low-maintenance system uses a filter built to last 1 year or 2850 litres. Replacement is fast and easy.
Magnetic door seal system locks in cold air

One-piece construction, extra-heavy insulation and magnetic gaskets around every door lock in cold air. Seals are so secure that even after power outages of multiple days, owners report no thawing of their frozen foods!

Adjustable shelves for maximum convenience

Food comes in all shapes and sizes, and the interior design of Sub-Zero refrigerators and freezers accommodates that diversity. Main shelves, door shelves, even dividers in drawers adjust to allow the most convenient configuration possible.
Specifications and Downloads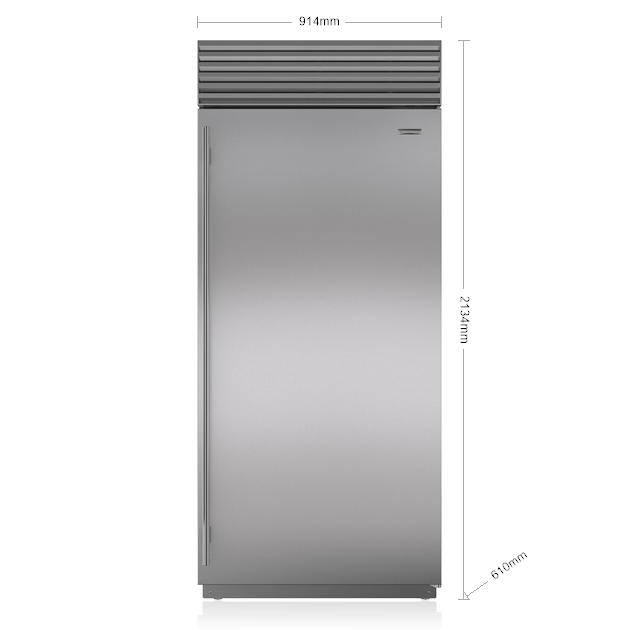 Request a brochure
Dozens of pages of inspiring photos, product features and more in print and online. Discover a world of beautiful, high-performance and top-quality products for your dream kitchen with this free guide from Sub-Zero and Wolf.
Get my brochure now