76 CM Classic Wine Storage
ICBBW-30/S
THE ENEMIES OF WINE MEET THEIR MATCH
Temperature, humidity, light, vibration – all these things can harm the flavor of your favorite Chablis or Cabernet. But our ICBBW-30/S built-in wine preservation blends superior-grade materials, advanced technologies and a 70-year tradition of American craftsmanship to defeat the enemies of wine. It incorporates our latest features, to protect your investment and increase your enjoyment of every glass, and has available accessories that enhance your wine experience even further.
The ICBBW-30/S has two individually controlled storage zones, so you can store both reds and whites at the proper temperature. Full-extension racks glide smoothly in and out, providing access without agitating wine. UV-resistant glass and cocoa black back wall prevent light exposure. Dual evaporators maintain constant, moderate humidity. And bright LED lighting makes it easy to find your favorite bottle. With fifteen racks and a 147-bottle capacity, the ICBBW-30/S is ideal for any serious wine enthusiast.
less
Product Features
Rigorously tested to ensure dependability

Built with premium-grade materials, Sub-Zero products are designed to last a minimum of 20 years. Major components are subjected to extreme stress tests prior to going into the final design, and every major function is tested before shipping.

Independent storage zones control temperature

Two independent storage zones maintain wine's temperature within 1⁰ of set point, holding wines at precisely the storage and serving temperature you prefer.

UV-resistant glass prevents light exposure

UV-resistant, dark-tinted glass and new cocoa black back wall shield wine from the harmful rays that can cause premature aging and even unpleasant odors.

Brighter LED Lighting

Interior lighting is energy-efficient and makes it easy to find the bottle you want. Also has a display light – just switch it on, and your wine becomes a decorative element in the room.

Home security system connection

Protect your significant wine investment by linking in with your home security system.

Star-K compliant

Sabbath mode includes the ability to disable all lights and other electrical activity from occurring when the door is opened.
Exceptional customer support

Whether you're shopping for appliances or have questions about those you already own, the Sub-Zero and Wolf Customer Care team has a reputation for service that's as exceptional as its products.

Dual evaporators control humidity

Constant, moderate humidity means no dry corks or wet, peeling labels – and no oxidation robbing wine of its proper flavor.

Roller-glide shelves minimize vibration

Textured shelves cradle bottles safely, glide smoothly in and out to provide access without agitating wine.

Intuitive Control

Intuitive control panel is easy to read, easy to use and allows you to keep temperatures within one degree of set point.

INVENTORY TILE SYSTEM

Organize your wine collection with these metal tiles, bearing the names of merlot, cabernet and six other popular wines.

Design Flexibility

Stainless steel blends into your kitchen design with the classic Sub-Zero look.
Specifications and Downloads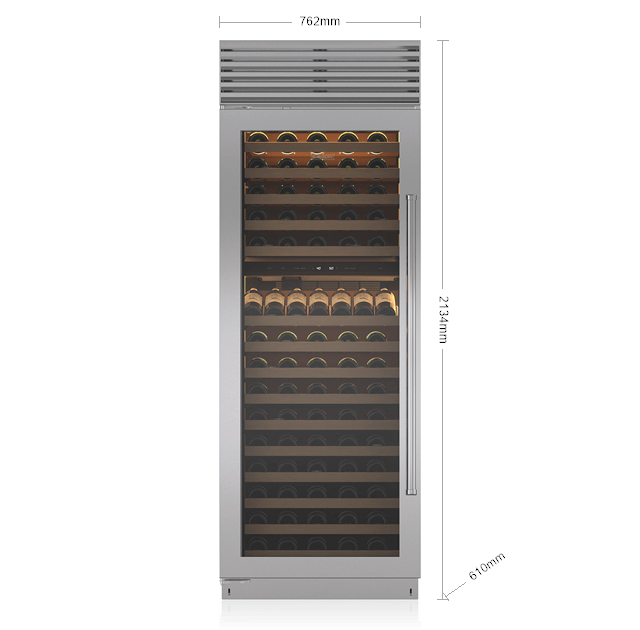 Request a brochure
Dozens of pages of inspiring photos, product features and more in print and online. Discover a world of beautiful, high-performance and top-quality products for your dream kitchen with this free guide from Sub-Zero and Wolf.
Get my brochure now